Pati Dubroff created this major metallic look for Margot Robbie, quite possibly the modern era's Helen of Troy.
"We tried to build on a very ethereal look to complement a pale silver and gold, blush-pink gown with feathers, tiny pearls and beads. With Margot's look, I wanted to highlight the silver in the dress to create a soft and boudoir effect… natural with a little something extra." Here, how to get the look, in Pati's words.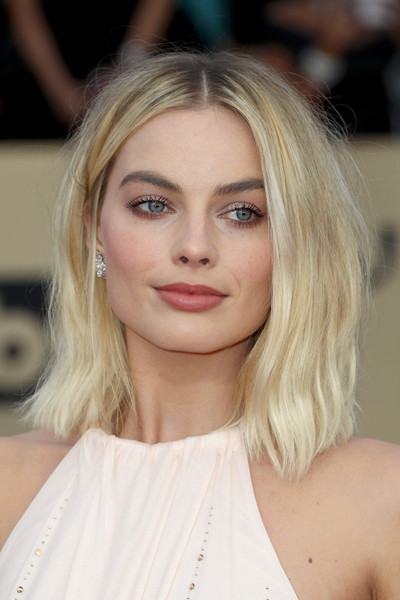 Face & Skincare
To prep Margot's skin, I used the Sisley Black Rose Skin Infusion Cream and then the Sisleӱa Eye and Lip Contour Cream around her eyes to give her full radiance. I also used the Sisley Confort Extreme Body Cream on her arms and neck. I applied CHANEL Sublimage Le Teint in 30 Beige, which offers a healthy glow and provides a wonderful luminous look. I perfected her foundation with Le Correcteur de CHANEL Longwear Corrector in 20 Beige under her eyes.
Lips
I first stained her lips with CHANEL Rouge Allure in Rouge Angelique and then finished her lips with CHANEL Rouge Coco Gloss in Noce Moscata. These two colors layer wonderfully together and amplify Margot's romantic look.
Eyes & Brows
It's all about those ethereal eyes! First, I applied CHANEL Ombre Première in Undertone all around the upper and lower eye area. I used CHANEL Ombre Première in Flesh on the center of her eyes as a base and then re applied CHANEL Ombre Première through the center. Lastly, I sprinkled Make Up For Ever's Silver Glitter onto the lids. To make the blue of her eyes stand out, I used CHANEL Inimitable Mascara in Purple on her top lashes and CHANEL Inimitable Mascara in Noir Brun on her bottom lashes.
Tips
Soft tones don't have to be boring, or just reserved for daytime; they can be special for nighttime too. I wanted her blush to feel very flushed, so I took it straight across her face and even applied a tiny bit across her nose so she would look a little sun-and-wind-kissed.