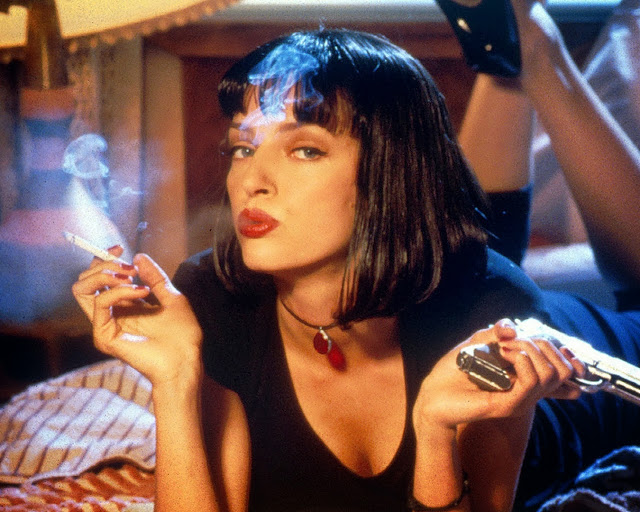 Adrenaline-shot recipient, Pulp Fiction's Mia Wallace, played by Uma Thurman, changed the lipstick and lacquer landscape of the '90s.
Few other movie characters can claim such an impact–and especially during such a patently unchic time when fashion and beauty were left to draw inspiration from the emerging Seattle music scene as many major influencers in fashion at this time were tragically dying of AIDS. Her sleek dusky bob, her smokily lined eyes and quirky locutions like "I'll be down in two shakes of a lamb's tail" positively empowered all of us to delve into decadent deep shades and launched the insanely popular Chanel "Rouge Noir," later renamed Vamp. It was created to mirror the hue of dried blood and its first year alone sales grew to $1 million. To the casual movie buff, Mia Wallace recalls a Willow filter take on Scarface's Elvira Hancock in both personality and looks. But did Elvira spawn two eras of glampire beauty moments, spanning 15 years? Mia Wallace also schooled us on world's tendency to divide between Beatles vs. Elvis people. One cannot claim equal allegiance to both. It's vital that you understand this.

Her scent? Well, it makes a statement without saying a word, but it's most patently not '90s gem Exclamation. After all, says Mia, "That's when you know you've found somebody really special. When you can just shut the fuck up for a minute and comfortably share silence." No, Mrs. Wallace rocks a scent that is the olfactive incarnation of vamp lipstick and lacquer, and that's only one fragrance: Tom Ford Black Orchid. It's been referred to as "sex in a bottle," and a confidence confection. This verging-on-goth scent is all about making an entrance and doing it with drama, VERY Mia. The alluring potion includes a melange of incense, vanilla, spicy floral accord and bergamot.
Tom Ford Black Orchid is available at Nordstrom.

In R18 series Fictitious Fragrance Fans, I assign a pop-culture character a signature scent. Fragrance is one of the most difficult areas of beauty to discuss and I find myself trying to convey a scent to you, more often than not, by the pop culture character it embodies to me. So why not make it a thing?