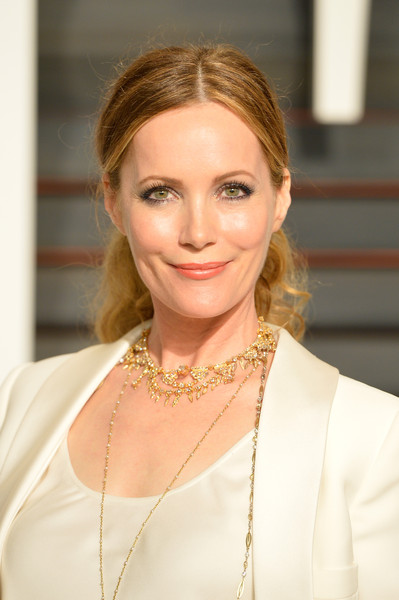 One of my favorite hair looks of the night was Leslie Mann's voluminous, pretty ponytail. Nexxus New York Salon Care Celebrity Stylist Lona Vigi shares the how-to below.
Start by washing hair with a volumizing shampoo and conditioner like Nexxus® New York Salon Care DIAMETRESS Rebalancing Shampoo and Restoring Conditioner that increases the diameter of each strand.

On wet hair, create a center part and apply Nexxus® New York Salon Care EXXTRA GEL Superior Hold Sculpting Gel to define the hair around the face and sides for a sleek look. 

Blow dry the hair off the face and spray each section individually with Nexxus® New York Salon Care FRIZZ DEFY Finishing Mist all over to provide humidity-resistance and a natural hold.

Curl the ends with a small barrel curling iron to hold and secure the style during this unusual Los Angeles rain.

Brush out the ponytail and backcomb for fullness.  Finish by spraying with Nexxus® New York Salon Care MAXXIMUM Superior Hold Finishing Mist to provide a defined texture and firm hold that allows the style to stay in place.
Did you love this look or did you love this look?