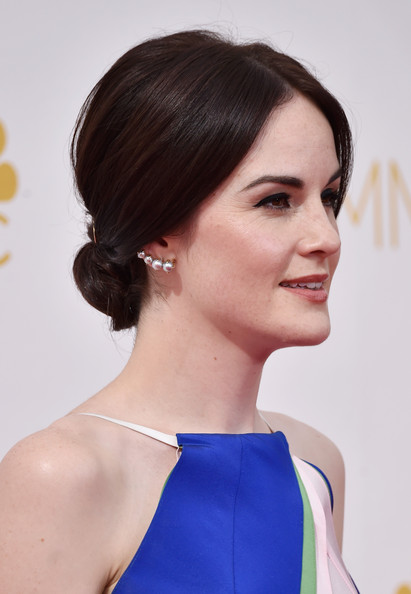 Hickory dickory Dockery, that effortless bun is freaking fantastic. Mara Roszak for L'Oréal Paris did the hair honors for Downton Abbey actress Michelle Dockery. "Michelle wore a one of a kind gown by a Brooklyn designer.  I chose to highlight the classic ease of the dress by creating a beautiful, effortless bun parted in the middle for a cool, modern feel." Here, the step-by-step on how to get the look.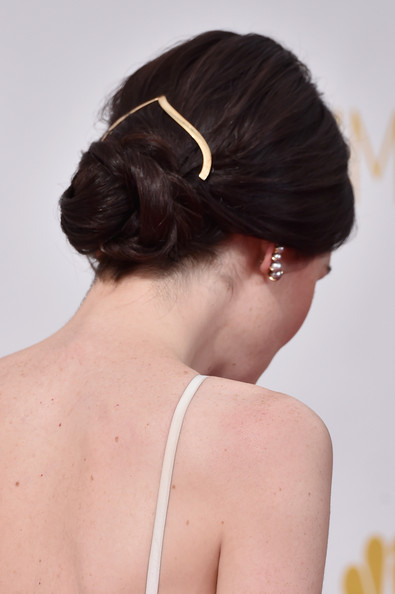 STEP 1: Start by applying L'Oréal Paris Advanced Hairstyle BOOST IT Blow Out HeatSpray ($4.99) all over the hair for soft volume.  Then, blow the hair out using a boar bristle round brush, parting down the center once dry.
STEP 2: Spray L'Oréal Paris Elnett Strong Hold Satin Hairspray ($14.99) all over to add hold and texture.
STEP 3: Section the front of the hair – in front of the ear, forward, and off on both sides.  Then, pull the back into a low ponytail securing tightly with an elastic.  Take one side at a time to the back, wrapping the ends around the ponytail elastic.
STEP 4:  Softly tease the ponytail at the base (closest to the elastic), smooth over the top and wrap into a bun at the nape of the neck, crisscrossing bobby pins to secure.  For added hold, spray hairspray directly onto the pins before placing them in the hair.
STEP 5: Allow a few pieces around the face to fall out for a soft, whimsical look.
STEP 6: Finish off with L'Oréal Paris Advanced Hairstyle LOCK IT Weather Control Hairspray ($4.99) for a strong hold that lasts through the night.