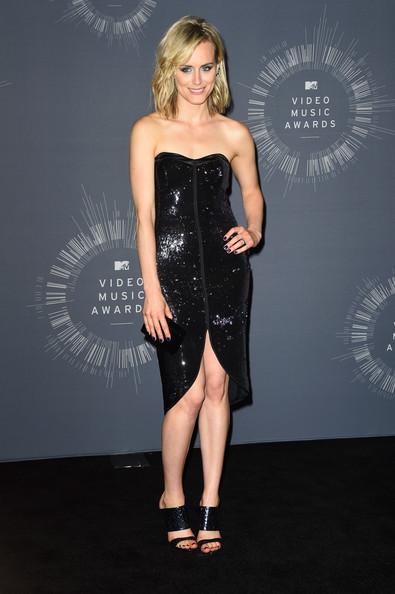 As Cosmopolitan tweeted, "black is the new black!" The Orange is the New Black star sashayed up to the stage clad in black sequins and a killer makeup look, created by Tina Turnbow for Clinique. Here, the beauty breakdown, in her words. Read up; everyone knows the Litchfield currency is beauty products. Taylor's taken that idea to heart with her look last night.
EYES
Cream Shaper for Eyes in Deep Cobalt – apply the cream liner on the top lash line from the inner corner to the end of the lash line.  Apply in straight line and extend a winged tip past the lash line to create an overall almond eye shape.  Apply cobalt blue to the inside rim of the eye as well. All About Shadow Quad in Smoke and Mirrors and Galaxy – use the darker blue shades in the Galaxy quad to accentuate the almond shape of the eyes and bring the darkest blue to the outer corner of the eyes.  This gives a more wide-eyed dimensional look and makes the eyes really "pop."  Then, use a smudger brush to lightly blend the eyeliner into the pearly blue and silver of the eye shadow to create gradation. Lash Power Feathering Mascara in Black Onyx– applying multiple coats of mascara with this new, fluffy brush to build feathery, full lashes that stand out beyond the eye liner.  With pearly blue and silvery shadows on the lids, lashes really pop.
LIPS Chubby Stick Intense Moisturizing Lip Colour Balm in Curviest Caramel – to contrast the strong eyes  and cobalt eye liner, adding a simple nude lip keeps the look effortless and feminine.
CHEEKS Chubby Stick Cheek Colour Balm in Amp'd Up Apple – Creamy, mistake-proof cheek colour created a healthy-looking glow in an instant. Cheek Pop in Plum Pop—Plum pop is perfect for achieving "just-pinched" pink look and vibrant colour on top of the Amp'd Up Apple base.
FACE Blended Face Powder in Invisible Blend – adding powder helps set the foundation and softens the look of the skin on the red-carpet.
BODY Uplighting Liquid Illuminator in Natural-this sheer, lightweight liquid instantly illuminates skin. Use along collar bones and shoulder to highlight and give body an allover, dewy glow.
What do you think of Taylor Schilling's makeup look at the VMAs?