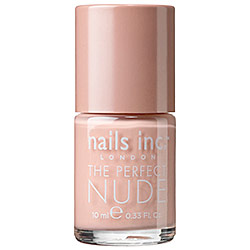 The nude nail is elusive as the perfect red lipstick–you know it exists but damn, does it take a long time to find! NAILS INC has three nudes that are, in my opinion, perfect and if you don't agree, layer them to your desired bare hue.
More than anything else I like a nude pedi– doesn't chip, goes with everything and makes your legs just a little bit longer. Chic and understated, you can save the bright colors for your fingers.
P.S This layering trick also works for finding/making the best red lip. I like to use a mix of lipsticks and glosses.
Follow Julia on Twitter: @Julia_Casella.