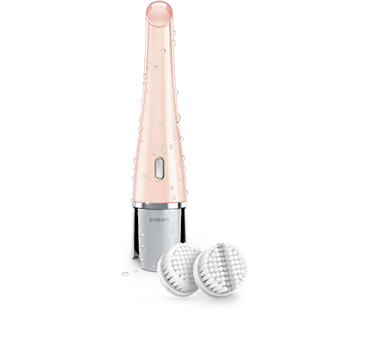 Exfoliation nation! I partnered with Philips to test out their new Philips PureRadiance Facial Cleansing System ($149.99) with Sonic Technology and Advanced Dual Motion. Check out my video review below and make sure to read about the highlights at the end of the post.
As I noted in the video, Philips PureRadiance Facial Cleansing System features Sonic Technology with Advanced Dual Motion, allowing for 10x better cleansing than if you were to just wash with your hands. This means that it boasts two frequencies to provide a sweeping movement to dislodge dirt and oil while the gentle rotations sweep it away from the skin's surface. It's incredibly gentle on all types of skins and you can even use it with your favorite facial cleanser or exfoliator. And best of all? You can place your just-used skin brush onto its drying stand-charger without having to worry about electrocution, thanks to the strategically placed chord.
What do you think? Would you try the Philips PureRadiance Facial Cleansing System?
Disclosure: This post was produced in partnership with Philips. All opinions herein are my own.