By Julia Casella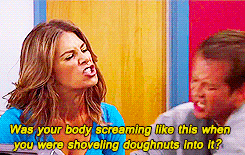 Motivate Monday, because Jillian is super scary. 
The Conde Nast cafeteria actually gets used! 
This is
what
Lucky
's market director ( and former
Teen Vogue
beauty assistant) Laurel Pantin eats for lunch everyday. 
To flu shot or not to flu shot, that is the question I ask every single autumn. The Huffington Post
has finally convinced me.
Why would anyone wear makeup to the gym? Well, I do and apparently
so do others
. Do you? 
She's beauty and she's grace, she's Miss.United States…and she's sharing her fitness routine.  

Follow Julia on Twitter: @Julia_Casella. 

Like this post? Don't miss another one! Subscribe via my RSS feed.