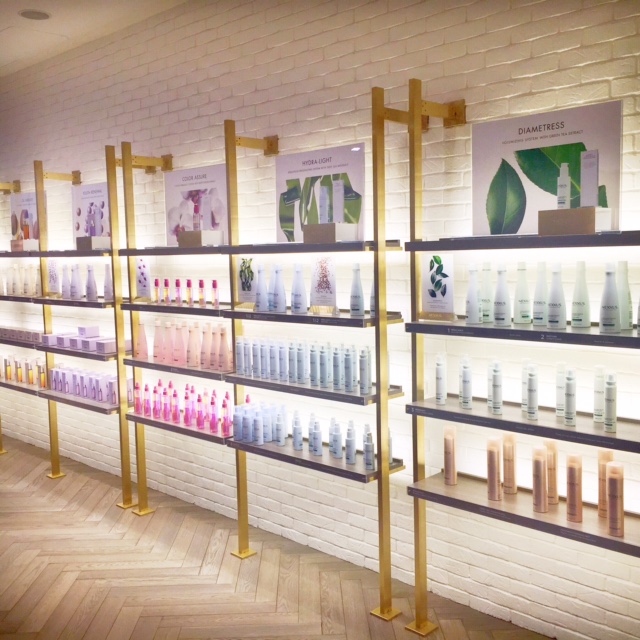 Seinfeld's Kramer famously said that the intersection of 1st Avenue and 1st Street was the nexus of the universe, but the HAIR Nex(x)us of the universe is Nexxus' new (and first ever!) hair salon, now open three days a week.  The Nexxus Salon is located at 39 North Moore in TriBeCa, fully opening the rest of the week this June. On Tuesday night, through a partnership between the hair-care brand and Cosmopolitan magazine, I experienced a blow-out of the highest order with the talented Jacob, who is positively a member of the Psychic Friends Network and always nails whatever vague texture I describe completely. Thanks to an Emergencée treatment he administered, my hair was sleeker and smoother than its been in years and without a single additional product. The in-salon service actively repairs the internal structure of fibers for resilient hair that unravels with responsive, fluid beauty. I left with beachy, breezy waves that last for days.
The chic, white space is outfitted with state-of-the-art technology, from ergonomic hair-wash station lounge chairs to a giant interactive mirror/diagnostic tool. Here, you upload your photo for a personal 360 cut, color, and treatment diagnosis curated by Creative Director Kevin Mancuso. It then saves your data, including product recommendations, for future visits.
The Nexxus Salon is located at 39 North Moore. The Nexxus website lists a phone number and email address for appointments.
This post was produced in partnership with Cosmopolitan; all opinions herein are my own.