Happy Sunday, friends!
Do you know about Sondra Roberts? They make phenom handbags and have for more than 25 years, renowned for unique designs, top-quality Italian leathers and use of exotic skins.
Their python print is singularly special. They wanted to offer a bag with the same look and feel of a genuine python bag for much less. Every season, Sondra Roberts' owners go to Italy to review and select the hottest trends for their line. Last year they found the leather that was used to create their very-genuine-looking-and-yet-faux line, and were impressed with the material's quality. It's not simply a python PRINT. The bag actually has scales that look and feel like the real thing. I've gotten so many compliments on my Snake Framed Hobo in Cognac, a rich brown. You could compare to Michael Kors' python bag which retails for about $3,000 to Sondra Roberts for $500-600.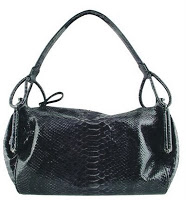 Snake Framed Hobo: To get 20% off, enter MBFWPH20 at checkout.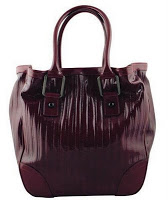 Stitched Patent Tote: To get 20% off, enter MBFWSP20 at checkout.
Sondra Roberts also boasts a more affordable line called SR Squared. It retails right around $100 but has the same attention to detail and quality of the Sondra Roberts line. Their clutches are especially adorable. Worth checking out for sure, in this economy!
Enjoy!