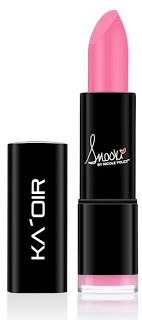 Everyone's favorite derriere-moisturizer Snooki has partnered with KA'OIR Cosmetics on a vivid custom pink lipstick shade has a customized packaging and is "engraved" with Snooki's signature logo. The shade is called Snookilicious Haute Pink Lipstick, a matte neon hue.
I'm just glad it's not her signature beige iridescent lipstick she donned on many a Jersey Shore season recalling all the adamance Dirty Dancing's Lisa Houseman. What do you think of Snooki's shade?
Snookilicious retails for $22 and is exclusively available online at kaoir.com.
Like this post? Don't miss another one!
Subscribe
via my RSS feed.