By Julia Casella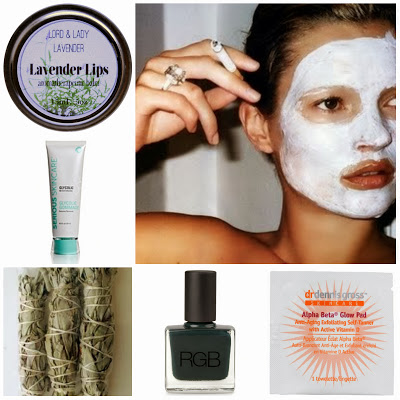 It wasn't until after I wrote this list that I realized that all of my monthly favorites were somehow related to relaxation. I mean between back to school anxiety and that Green Day song, who can blame me for finding September stressful? 

1. 
Lord and Lady Lavender Lip Balm
:
Delivering aromatherapy and moisturized lips in one little tin, my latest lip obsession is physically
and
emotionally soothing. Made with lavender oil, beeswax and grapeseed oil, it is 100% natural and the closest I have come to nature all month long. 
2. 
Serious Skincare Glycolic Gommage Extreme Renewal Mask
–
Another month, another mask. Let the mask dry ( about 15 minutes) then use circulation motions and a little bit of water to smooth away most of the product. While it has the word "extreme" in its name, I promise this exfoliating powerhouse is very gentle and leaves skin soft, bright and squeaky clean. 
3. 
Sage
:
Also a September favorite of Amber's, sage promotes good energy and cleansing. Plus it makes your apartment smell nice.  
4. 
RGB polish in Tropic:
Organizing my beauty products is very therapeutic and during one of my sessions I stumbled across many long forgotten colors and this was the first one to make it on my nails. I found about 20 other colors that I vowed to use this season so expect an autumn polish post soon!   
5. Dr. Dennis Gross Alpha Beta Glow Pads: A person's skin is a huge indicator of their emotional state and personally, my skin is a huge factor in my emotional state. Bad skin = feeling bad which, in turn = more bad skin. A never ending cycle that can only be broken by a tiny tan towelette. I've sung the praise of these babies many times before but just to recap: they make everything better. When your skin glows, you glow.
What are your favorites this month?
Like this post? Don't miss another one!
Subscribe
via my RSS feed.