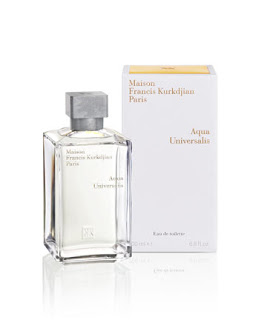 The What's On Your Vanity Series showcases a single beauty item a blogger loves because it's effective, but also he/she feels he/she must keep out on top of his/her vanity because the gorgeous packaging must be displayed. 
The fabulous Rafe Totengco is my close friend Denise's uncle and designs a phenomenal line of accessories you may be (slash ARE) familiar with called Rafe New York.  He gave me the deets on what's gracing his vanity. In Rafe's words:

I received Aqua Universalis as a birthday gift and I've been wearing it every day since. I've been on the hunt for a scent that wasn't heavy and overpowering. I wanted something that conveyed freshness like a crisp white shirt. I love the packaging as well, because it's modern and sophisticated. The best part about it this scent is that you can also buy it as a fabric softener so you can sleep and wake up smelling fresh! 
Now who can say no to that?
Not one person, Rafe! Thanks for participating in What's On Your Vanity. Stay tuned for more of the series.
Like this post? Don't miss another one!
Subscribe
via my RSS feed.