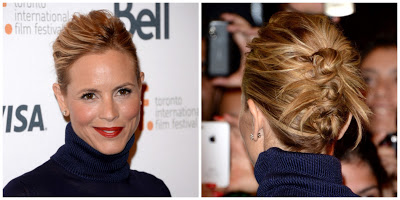 I just can KNOT anymore with the top-knot, and Maria Bello's chic alternative is something I'm going to steal the next time I have post-Core Fusion hair. Here's how to get this deconstructed knotted updo, courtesy of stylist Jonathan Hanousek.
Flipping her hair upside down, I scrunched texture into the hair and let it air dry while she started make up. Maria has wavy hair, but if your hair is straight you can use a diffuser to scrunch dry your hair while pushing or squeezing the hair into waves. The goal is more tousled than curly.
Once dry, I sprayed several pumps of Moroccan Oil Glimmer Shine Spray throughout the hair, raking and shaking with my fingers to loosen everything up and create a piecey texture.
Section out the top of the head and clip out of the way. Starting in the nape, pull the hair into 3 small ponytails using small rubber bands. Make sure the nape is tight and that the ponytails are in a straight line.
Next take the top hair and loosely gather into the last ponytail. You want to keep height and texture on top.
Tie the first 2 pony's together then criss-cross the ends under the bottom pony to hide the band. Fasten with bobby pins.
Divide the hair in the last two pony's and tie into knots and pin. If the hair is longer double or triple tie and secure.
Clean everything up with your fingers and finish with a few sprays of White Sands Infinity Hairspray."
What do you think of this knotted chignon? Yay or nay?

Like this post? Don't miss another one! Subscribe via my RSS feed.