Welcome to BBJ feature Fictitious Fragrance Fans. Fragrance is one of the most difficult areas of beauty to discuss and I find myself trying to convey a scent to you, more often than not, by the pop culture character it embodies to me. So why not make it a thing?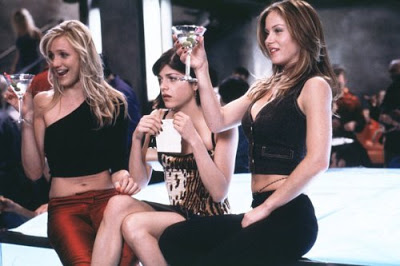 Courtney Rockcliffe (played by Christina Applegate, above right) is probably the coolest friend you could have.
If I were to design my own pop-culture influenced Life Extension a la Vanilla Sky's David Aames,  I would absolutely include a partner-in-crime from her prototype. This divorce lawyer is smart, supportive, a girls' girl who keeps it so real, she allows fellow ladies to feel up her implants in a public bathroom to help them determine if they should make the leap themselves. Okay? She forces her friends into doing what she knows they need to do but does it with a sense of adventure AND occasion. Remember the "Days of our Lives" outfits they rocked to the wedding the duo crashed? Most importantly? She's a closeted romantic, most likely because of her gig "defending the rights of [her] broken hearted clients and try to squeeze every single penny out of their miserable cheating spouses." I mostly identified with the hilarious Pina Coladas song scene, in which a favorite tune of the gals' college years came on and she and Christina (played by Cameron Diaz) saw no other alternative than to call their friend Jane (Selma Blair) at her JOB to tell her they were just wondering… if she likes PINA COLADAAAAAS? 
HELLO, IS JANE THERE! 
So what does Courtney Rockcliffe smell like? Ralph Lauren Romance, of course. She was an early adopter of the classic, buying the fragrance at a department store counter in San Francisco when she was a law student, thinking she'd wear it ironically. It's a pretty but not cloying nor strong fragrance that befits an attorney. When she'd been wearing it for five years, she came to realize that not only did she love it, she kind of loved what it represented. As Courtney says to Christina to lure her into crashing Peter's wedding, "Fifty percent of what people say when they are joking is true, which means, you do wanna go to this wedding but you are too afraid to admit it. So, by making some sort of joke about it, you get to say what you really want without being vulnerable." Courtney's scent journey took a similar path.
RL Romance boasts a pretty blend of chamomile, ginger, rose and lily for a feminine feel without being overtly girly. To celebrate Ralph Lauren Romance's 15 year anniversary, the brand is releasing a limited edition anniversary bottle priced at $95 (a $126 value). Get involved at Sephora.com.
Like this post? Don't miss another one! Subscribe via my RSS feed.