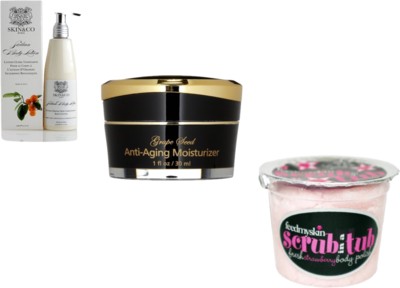 Food grade, luxe ingredients are a major trend at Cosmoprof North America. Here, a roundup of three of my favorite items that are good enough to eat–literally. 

Skin & Co. Sicilian Body Lotion
Italians do so many things well, and this truffle-infused product is proof that beauty is yet another strength of this people. The bright scent of Sicilian orange combines with moisturizing truffle oil and Vitamin C to soothe dry, sensitive skin. 
$33 at skinandcoroma.com

Delaney Wellness Anti-aging Moisturizer
Delaney Vineyards' owners brought their knowledge of wine-grade grapes to skin care in this luxurious blend. The Texas-based winery owners blended grape seeds, skins, stems, antioxidants and anti-aging ingredients to yield an elegant cream that hydrated even my most Sahara-dry Vegas skin. 
$105 at beautybar.com. 




Feed My Skin Strawberry Scrub In A Tub
Single serving is the word of the day for this brand, which uses real food ingredients like strawberries, bananas and dark cocoa. 77 grams of fat would do vile things to your waistline, but this body polisher's packed with shea butter, coconut oil and pure cane sugar mixed with juicy strawberries to bring that fatness party to your lipid-craving dry summer skin. 
$12 at feedmyskin.com. 

Are you loving any food ingredients in your beauty products of late?

Like this post? Don't miss another one! Subscribe via my RSS feed.