This post is sponsored by Nivea, but all opinions herein are my own.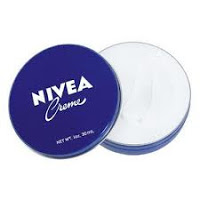 When we go to Morocco, I think we should have completely different names and be completely different people.
Penny Lane
,
Almost Famous
When I travel, I take a page from Penny's book.
If no one's around, I'll drop a British accent. (I have to entertain myself somehow on biz trips.) I tend to eat food I'd never consume on a dare at home. And though I'm scandalously lazy when it comes to body lotion, I pack hydrators and I'm not even deluded about whether I'll use them. Anywhere other than home, I USE them. 

My favorite portable prettifyer? Old school NIVEA Creme, in charmingly retro mini tins. Each contains exactly as much lotion as I need for a 2-3 day trip and I love that it doubles as a rich hand cream, as well. It's intended for the face, but I find it works perfectly to get gams glamorously gleamy for sultry nights out. 
Lastly, the price. Even Macklemore could rock this: It was $.99! Buy the Nivea Travel Tins at drugstore.com. 
Are you a regular body lotion-loving gal? Or do you tend to skip it in favor of moisturizing body washes like this delinquent girl? 
Like this post? Don't miss another one! Subscribe via my RSS feed.