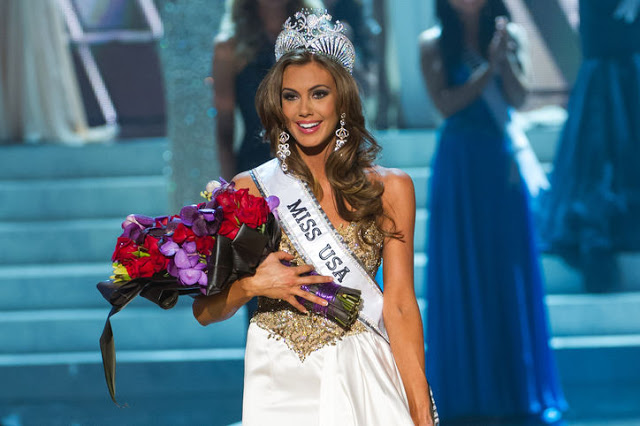 I just got off the phone with the newly crowed Miss USA, Erin Brady. It was only her first day of official work as Miss USA, but she shared with me some of her favorite beauty products, an unlikely tip from a fellow contestant and some summer fitness ideas.
BBJ: What are some beauty tips you've picked up from hair stylists and makeup artists over the years you've been competing in pageants?
Erin Brady:
I try not to wash my hair everyday. The second0day "dirty" hair is much easier to work with. Keep the natural oils in your hair to keep it nice and moist. I started using the CHI products–their Keratin Conditioner is great. I leave it in for 3-5 minutes and leaves you without flyaways and frizz. I believe deep conditioning your face, as well! When wearing foundation, the drier your skin, the more flakes show. Exfoliate for a fresh glow. I like an apricot scrub. I do it once or twice a week.
BBJ: What's your go-to hair look for a night out and for a typical day?
EB: For a night out, I like to do big, voluminous curls. It looks sexy, clean and youthful but glamorous. I have wavy hair, so during the day, I do soft curls or straight. For straightening, I first use a round brush and then take the flat iron to make it softer and to combat humidity. I do a little curl at the bottom.
BBJ: Any summer fitness tips you can share?
EB: Take advantage of the nice weather outside. Enjoying the outdoors is key and switches it up from your day-to-day workout routine.
BBJ: What snacks do pack when you're busy traveling?
EB: I like trail mix, and because I have a sweet tooth, I like dark chocolate pieces. Nuts and something sweet. They keep you full between meals.
BBJ: Any off-label use things you do to prepare for competitions?
EB: One of my fellow contestants told me about using Preparation H under the eyes because it's cooling and depuffs. We slept very little as we were in Las Vegas for 2 full weeks. I put it under my eyes and it definitely helped!
BBJ: What products and treatments do you use to keep your hair healthy?
EB: I like the CHI 44 Iron Guard spray. It maintains the style, but also protects from heat.
BBJ: How about skin care?
EB: Image skin care, it's especially good for Vegas because the climate is so dry. I like the Daily Cleanser, it's good for sensitive skin. I use their anti aging serum, as well. As for lip balms, I'm a Burts Bees fan–I just started using one they have with mango and also one with pomegranate oil.
BBJ: What are some of your favorite makeup items?
EB: I like a dramatic eye, so I always need a great mascara that elongates your lashes. I like L'Oreal Voluminous Mascara.  
BBJ: What do you think will be most challenging and rewarding about being Miss USA?
EB: Most rewarding is being able to travel all over the country. I love to travel and the opportunities I have lined up are incredible. I'm looking forward to meeting so many people and get a feel for what's out there. The diversity that's all around us. People that you get to meet. Most c
hallenging I think is acclimating to a new city. It's a new experience for me, I've never lived in the city. It's a good challenge though, I'm excited. It's a lifestyle change.

Thanks, Erin!

Like this post? Don't miss another one! Subscribe via my RSS feed.