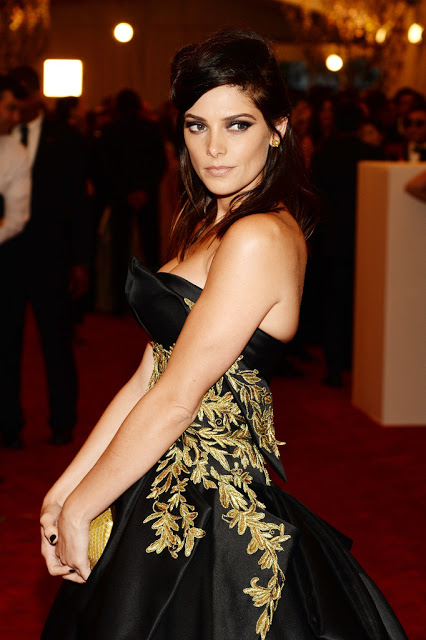 One of my favorite looks of the Met Ball 2013 was Ashley Greene's punked up 'do and sultry makeup combo. Her beauty dream team consisted of my mane man Ted Gibson and the epic makeup artist Vanessa Scali. Here, the beauty breakdown. 
Young punk chic is what Ted calls this look. He says, "This was a really fun hair moment for Ashley half up half down a coif in the front." 
To get the look, he used Build It Blowdrying Agent and Fix It Gel for amazing texture and a roughed up feeling. He used his fingers and hands to blow-dry, not a brush "so that it had that rockabilly flair."
After the hair was dry, he took a section of hair twisted it into a coif in the front then pinned it toward the back of the head, then took the sides back and sprayed with Beautiful Hold Hairspray. 
MAKEUP
Says Scali, "Ashley wore a stunning Marchesa gown, Harry Winston jewels and bold, dark eyes. Her bold eye paired with a nude lip gives her look an edge with a nod to the Met Ball's punk theme."
Face & Cheeks
"I started by prepping Ashley's skin with mark For Goodness Face Antioxidant Skin Moisturizing Lotion SPF 30. I used my fingers to apply (by patting) concealer under the eyes. Then I applied mark Just Pinched in Nude onto her cheeks to add subtle warmth to her skin (Ashley just returned from a trip, so her skin is already sun-kissed and golden!). I added mark Glowdacious Illiuminating Powder on the peak of her cheekbones. I set the look with mark Matte-Nificent Oil-Absorbing Powder."
Eyes
"I layered Ashley's eyes with color by starting with the dark shade from mark Keep it Going Longwear Eyeliner & Shadow in Entourage. I applied it from the base of the lash up past the natural crease and out past the natural corner of the eye. This gave me depth to work with and established the shade for the eye. Then, I used the purple and taupe shades from mark On the Dot Bold Eye Color Compact to add color to the center of the eye and softness to the edges. I added a mix of the three colours under her bottom lashes. For extra intensity, I used mark No Place to Run Longwear Eyeliner in Jet Set and smudged it into the shadow. I applied mark Color Me in Eye Crayon in Go Gold inside the waterline of her eye and added a touch of highlighter to the brown bone. I added the final touch to her eyes by applying a few layers of mark Lash All You Want High-Volume Mascara in Black."
Lips
"To finish Ashley's look, I gave her a soft, satin nude lip by using Nars Satin Lip Pencil in Biscayne Park."
Brows
"I complemented her brows' shape by applying Nars Eyebrow Pencil in Jodhpur."
What do you think of Ashley Greene's Met Ball makeup and hairstyle? 


Like this post? Don't miss another one! Subscribe via my RSS feed.