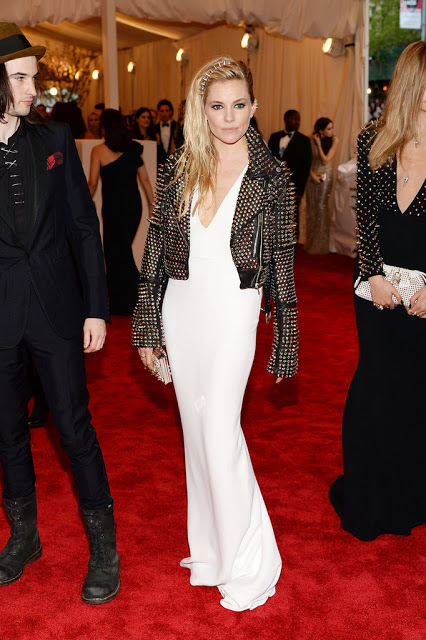 Oscar Blandi
created this powerfully punk look for the gorgeous
Sienna Miller
. Here's how he achieved the hairstyle, adorned with an
Eddie Borgo
spiky headband. 
1. Add tons of texture to fully dry hair using a mix of pomade and gloss (Pronto Dry Sculpting Pomade & mix with Pronto Gloss). The hair should feel very thick and "dirty," but the gloss should keep hair looking sleek and polished.
2. Take the two sides of the hair and slick them back using a mix of serum and mousse (Hair Lift Mousse & Hair Lift Serum).
3. Use a curling iron to create a light bend in the hair.
4. Take both sides of the hair and pull them back as you would a ponytail. Use a clip or rubber band to secure and let one side fall, keeping the same rough texture.
5. Add a headband to liven the look.
I adored her studded jacket and feminine gown combo. What do you think of Sienna Miller's hairstyle at the Met Ball 2013?

Like this post? Don't miss another one! Subscribe via my RSS feed.