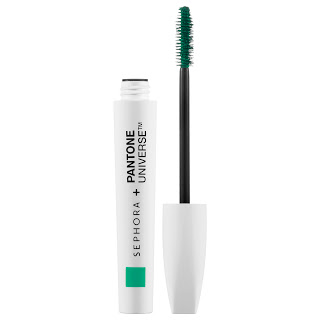 Emerald is THE color for 2013 and this bold green mascara is no joke.  Colored mascaras are the bane of existence because they look so delicious but rarely pay off.  Well, I just found my colored mascara savior.  This paraben- sulfate- phthalates-free formula is bright (I mean bright) green in the tube and it's bright (I mean bright) on the lash with just one coat.  No need to apply a layer of basic mascara underneath; this mascara grips really well to bare lashes and provides a defined tapered effect. I applied a supplemental layer midday just to bring the shocking green look back (it had faded slightly.)
But all in all, this is a great mascara and I push Sephora to come out with a full range of colored mazzies just like this to fill the void! (Note that you'll need soap and water to remove: I tried using just a face wipe and the green tint traveled under my eyes and onto my lid. Yikes!!!)–Ashleigh Ciucci

Like this post? Don't miss another one! Subscribe via my RSS feed.