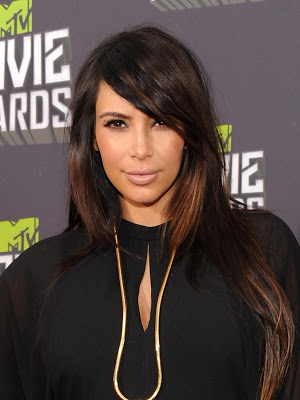 Kim Kardashian's
hair is doing that pregnancy thing where it's just lush and beyond fly.
Living Proof's Chris McMillan
helped her out with her MTV Movie Awards hairstyle tonight with a chic blow-out to compliment her Yves Saint Laurent dress. Here's how to get the look. 
Says McMillan, "We wanted a really simple, chic blow out. Kim's been trying to grow her bangs out, so I created a deep part to pull the bangs to the side. We kept the blowout sleek with a little bit of texture."
 "I used Living Proof Prime Style Extender while Kim's hair was still damp so that her style would last all night. Then I blew it dry with a round brush to create a no frizz blow out. I created a very deep part to tuck her bangs to the side. I used Hold Flexible Hairspray throughout her hair to create texture and a piecy look. I also used it to keep the bangs tucked away."
What's your take on Kim Kardashian's MTV Movie Awards hairstyle? 

Like this post? Don't miss another one! Subscribe via my RSS feed.