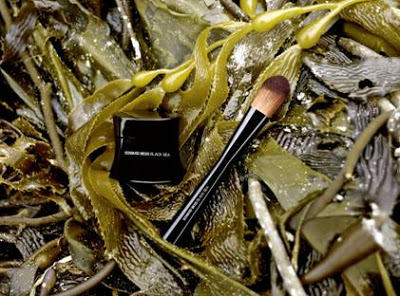 Edward Bess, the most beautiful man or woman in beauty, quite frankly (Edward, please enumerate all of your brow techniques. Thenx) launched his eponymous beauty brand in 2006 and will debut on QVC TODAY, Friday, April 12 at 10 PM (ET) during "The Lisa Robertson Show." 
Expanding his Black Sea brand, Bess will introduce the first color cosmetic item offered exclusively through the multimedia retailer. The Black Sea Complexion Correcting Mousse Foundation and Blending Brush duo (QVC Item #A232023) will be available for approximately $75 and will remain exclusive to QVC through April 12, 2014. I just tested it out and it's everything, friends. It boasts the most elegant texture and slips on to camouflage everything from pores to the ghosts of acne past I've been dealing with for a YEAR. I've been on a major BB/CC BENDER and this is the first thing to take me away from it in an age. Mmkay? 
The Black Sea Complexion Correcting Mousse Foundation is formulated with algae and sea fennel plus vitamins C and E, which help to achieve the look of healthy, youthful skin. The ultra-lightweight formula is available in five shades ("Fair," "Light," "Medium," "Tan" and "Deep") and Bess' expert Blending Brush helps create a flawless finish.
Watch Edward Bess on QVC tonight and tell me if you cave! (You should.)

Like this post? Don't miss another one! Subscribe via my RSS feed.