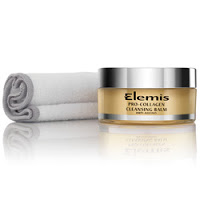 I don't lead a Pert Plus lifestyle. 

I have multiple steps for my hair, skin and makeup needs so it's rare that I consolidate them, with the exception of BB Cream, I've found that the results are better for me when I take the long road. 




So I'd been using a separate cleansing oil and cleanser until I tried Elemis Pro-Collagen Cleansing Balm. It takes a lot to shake up this gal's skin care routine, but consider this a permanent fixture in mine. Not only is it a sensory experience thanks to its cocktail of eucalyptus, camomile, orange and elderberry oils (among others), frankly, it does the job. I loosen my makeup first with a hot wet washcloth, then smooth on a bit of the yellow balm and it removes even the most longwearing makeup, softens and soothes and leaves my skin nourished, all while relaxing me with its spa-like fragrance. 
Buy Elemis Pro-Collagen Cleansing Balm for $60 this April at timetospa.com. 
What's your skin care story these days? A one-step cleanser? Makeup removers and cleansing oils? Let's talk in the comments. 
Like this post? Don't miss another one!
Subscribe
via my RSS feed.