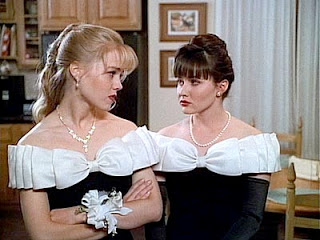 Pop quiz: Who was nominated Spring Princess? 

The Finest Hour Series features beauty recommendations expressly for the prom. 

Guys, I freaked out for five minutes because I already covered my favorite movie prom moments in honor of last year's Finest Hour Series, then I remembered the never-ending fodder of TELEVISION proms! So starting with my favorite prom moment (90210's Kelly and Brenda showing up unwittingly in the same hideous-yet-chic-at-the-time black and white bebowed dress), here's the next installment of the franchise.  We know unwanted hair will kill our prom glamour game, right? Here are some items to help you with that. 




Venus & Olay Sugarberry Razor ($11)
Your go-to get-smooth favorite now comes in a new color and fragrance. Venus & Olay Sugarberry is inspired by fruity top notes of crisp green apple, wild strawberry and juicy orange, blended with radiant floral accords of lilies and sheer roses with a musky base. I visited the Gillette World Headquarters in November to see how these are made and it was AMAZING. I learned so much, including the fact that the edge of a Venus blade is thinner than a scalpel. You'll love that you don't need a separate shaving cream to score super-smooth gams.

Get your legs and nether regions super-smooth without spending a ton on a salon visit with Nair's new strips, which geniusly indicate when the wax is warm enough to use after you rub them between your hands. When it's ready for hair removal, the Nair logo will disappear. 

Bikini Zone Medicated After Shave Spray ($8)  
Help keep unsexy red bumps out of your lifestyle with this post-shave spray. The fast-absorbing formula also addresses irritation and pain associated with waxing and depilatories, as well. 



Bliss Fuzz Off ($24)
If hair is cropping up on your FACE (rude), nip it in the bud quickly with Bliss' fabulous new depilatory formulated for your mug. They've included skin care goodies like Vitamin E and botanicals (everything you'd expect from a brand boasting such incredible skin care offerings) in the formula so you can treat while you de-fuzz. 



Braun Silk Epil 7 Skin Spa ($105) 
One part Epilady; one part Clarisonic, this gadget packs a satiny-smooth punch for your legs. The brush boasts 3,000 micro-vibrations per minute, yielding 4 times the exfoliation of a scrub alone. The epilation is the equivalent of 40 tweezers, able to grip hair that's only as long as a grain of sand. The issue with waxing your legs is that you're always living in a perpetual state of regrowth, so with Braun, you're able to have hairless legs more of the time. Always the goal. It's also cordless and features up to 40 minutes of use–wet or dry. Just maybe have a cocktail before epilating–or take an Advil or two beforehand. 

What are your favorite hair-removal methods these days? Talk it out in the comments. Also, are you going to a prom? I'm going to answer all prom-related Qs via video in the coming weeks, so ask away! 

Like this post? Don't miss another one! Subscribe via my RSS feed.