Welcome to  BBJ series, Fictitious Fragrance Fans. Fragrance is one of the most difficult areas of beauty to discuss and I find myself trying to convey a scent to you, more often than not, by the pop culture character it embodies to me. So why not make it a thing?
In the first music-video
Fictitious Fragrance Fan
installment, we have
Stephanie Seymour's character
in the epic
"November Rain"
Guns 'N Roses
video. That song DEFINED the power ballad genre. Do you REMEMBER the ginormous deal this video was? It was one of the most expensive ever and I was LIVING for SS's everything. Her prescient high-low wedding dress. The DRAMA! The wedding and death that was not even metaphorical. The painted roses bleeding red at the end. At the time the song came out in 1991, I was enjoying her monthly cameo in the Victoria's Secret catalogue, which I combed through with laser precision every month and nagged
Carol
to no end about purchasing me one of those coordinating sweatshirt/houndstooth-print leggings combos in periwinkle, like Stephanie's, obv.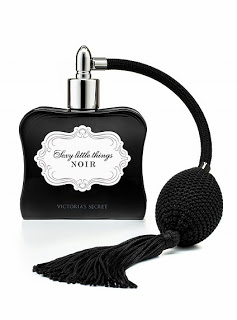 Her scent? To channel the sexy but mysterious, macabre vibe she exhibits in the video, there's no doubt in my mind she'd rock Victoria's Secret (obviously, she was a VS angel before there WERE VS angels) Sexy Little Things Noir. The packaging? Elegant to the nth, thanks to the atomizer and chic black bottle and retro font. The scent? The olfactory equivalent of lace. I mean, the gal wore two different dresses to her nuptials–a high-low frilly white situation AND a long velvet black off-the-shoulder frock with Grace Kelly gloves. To account for both aspects of her personality, the scent boasts a hint of vanilla, but it's not overwhelmingly sweet. It's spicy, smooth and fruity, thanks to notes of nectarine, apple and citrus top notes but tempered with sultry woods, amber and musk. In short, it's everything the video is: sweet and romantical to start but haunting with a tinge of sensuality. 
Buy Victoria's Secret Sexy Little Things Noir Perfume at
victoriassecret.com
 for $45. What do you think? Would Stephanie Seymour have worn this scent?
Like this post? Don't miss another one!
Subscribe
via my RSS feed.