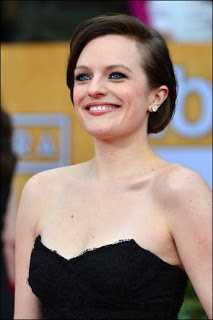 Elisabeth Moss of Mad Men fame looked sultry at the SAGs, right? Says mark cosmetics' Jamie Greenberg, 
"Elisabeth and I wanted to keep the look down to earth with a chic French street touch." Read on for the full beauty breakdown. 
Face & Cheeks:
"I started by applying mark Min-A-Real Cream-To-Powder Foundation all over her skin. Then, I layered mark Touch & Glow Warm Glow Shimmer Cream Cubes All Over Face Palette onto her cheeks. I added a swipe of mark Just Pinched Instant Blush Tint in Cheeky to create a gorgeous, natural glow. I set the look using mark Set Things Right Loose Powder."
Eyes:
"I started by applying mark Please Hold Eye Primer to create a strong base. Next, I applied mark I-Mark Wet/Dry Eye Shadow in Luvstruck to the creases of Elisabeth's eyes and blended mark Drama Case Eye Shadow and Liner Palette (black shade) onto her lash lines. Then, I used mark I-Mark Metallics Custom Pick Eye Shadow in Lava on her lids and finished the lash lines with mark What a Line Felt Tip Eyeliner in Twilight. I applied false eyelashes, embellished with two coats of mark Scanda-Lash Hook Up Mascara in Black Lash. Next, I filled in her lower lash lines using mark No Place to Run Longwear Eyeliner in Jet Set. I finished her eyes by applying one coat of mark Scanda-lash Hook Up Mascara in Black Lash on her bottom lashes."
Lips:
"I used mark Lipclick Full Color Lipstick in Baby Luv on Elisabeth's lips for a sweet, sophisticated smile."
Body:
"I applied mark Jewel Body Cream all over Elisabeth's skin to create a healthy, nourished look."
Thoughts on Elisabeth Moss' makeup look at the SAGs?

Like this post? Don't miss another one! Subscribe via my RSS feed.