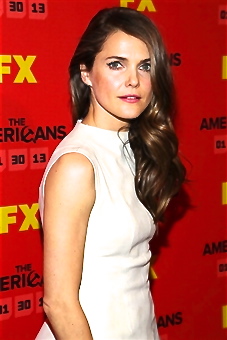 If you don't think I'm figuring out a way to watch
"The Americans"
premiere from my LA business trip this week, you don't know me at all. The show looks like the love child of "Alias" and "Felicity" (mostly just because of
Keri Russell
, whose curly-hair product quote in a magazine once spawned a lifetime obsession with Bumble and bumble for me.) '80s Russian spies is all I need to know. Brian Magallones created Keri Russell's hairstyle for the NYC premiere of "The Americans." Here, the beauty breakdown, in Magallones' words. 
"Keri was wearing an amazing pair of leather pants and suede top by Alexander McQueen.  I wanted her hair to look glamorous and appropriate for the red carpet, yet still modern and edgy to compliment what she was wearing.  I decided to go with a modern take on a classic 50's look.
To create this look, I started by taking 2 inch sections of hair and curling them with a curling iron and pinning them up in pin curls.  As I was curling, I sprayed each section with Aveda Volumizing Tonic to add volume and hold.  I used a 1 inch curling iron around the face for a more defined wave and a large 1 3/4 inch iron for the rest of the head.  Once the pin curls had cooled and set, I removed each pin curl and flat ironed the ends.  The straight ends are what give this look that modern edge.  Next, I created a deep side part for drama, and brushed the hair to relax the curl and shape the wave around the face.  I finished it off by running some Aveda Brilliant Emollient Finishing Gloss through to add amazing shine, and held it in place all night long with Aveda Control Force hairspray."
Are you as excited about the show as I am? Also, do we love her hair OR DO WE LOVE HER HAIR?

Like this post? Don't miss another one! Subscribe via my RSS feed.