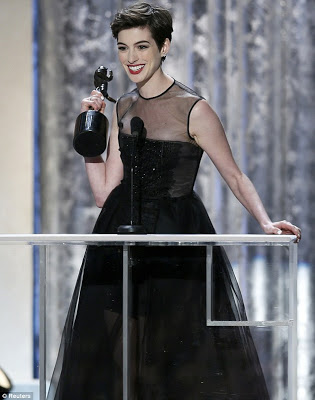 The inspiration? Says Lee, "
Annie wore a black embellished gown. The look was elegant, but approachable. Our intention was for her to appear casually chic, so I decided to go with a beautiful deep rose lip. Our vision really came together: the beautiful gown, her Judy Garland inspired hair and her classical make up. I hope this look will allure and inspire all you beauty buffs out there to be creative, fearless and experimental with your own hair and makeup." Here's how to get Anne Hathaway's makeup look. 
SKINCARE
:  I love a blank canvas, part of the process of creating a great look and making it stay lies in the preparation of the skin. Everyone's skin is different, but my go-to product for hydration of any skin texture is always CHANEL Hydra Beauty Serum. This product feels and smells incredible and delivers just the right amount of hydration without leaving any residue. Primers are not always necessary, but for red carpet season I turn to Laura Mercier's oil free primer to provide me with a great, velvety, even texture which helps with my application but also keeps the look fresh throughout the event.
FOUNDATION
:  Annie has the most exquisite alabaster complexion; her new gamine crop really highlights the texture and quality of her skin. I love to experiment with different formulations of foundation when I am blessed with such a perfect canvas. On this occasion I chose CHANEL Perfection Lumière Long-Wear Flawless Fluid Sunscreen Makeup Broad Spectrum SPF 15. This foundation is opaque and gives a velvety effect.
BLUSH
:  The definition of the cheeks and cheekbones are synergistically a part of the complexion, and I always regard them as part of my base. For this look I wanted to create a tactile effect and to bring a beautiful apricot hue to the apples of the cheeks to offset the lip colour. I used Jouer Mineral powder blush in Peach Bouquet.
EYES:  
On the eyes, I used CHANEL Soft Touch Eyeshadow in Fauve to trace the socket and elongate the eye. Lashes were curled and given a generous coat of CHANEL Inimitable Mascara in Noir. I added a few extra lashes. The lid and brow bone were nude with a touch of light concealer.
LIPS
: The look was all about the lip. Annie has full, beautifully balanced lips. They lend themselves equally well to being bright and defined, or more muted and subdued. This evening we decided to go for a colour that was a more intense version of her natural colour. CHANEL Rouge Coco Hydrating Crème Lip Colour in Taffetas Rose is a perfect deep rose/ raspberry shade that is just a few shades more intense than her lips at their reddest.

What do you think of Anne Hathaway's makeup look at the SAGs? 
Like this post? Don't miss another one! Subscribe via my RSS feed.