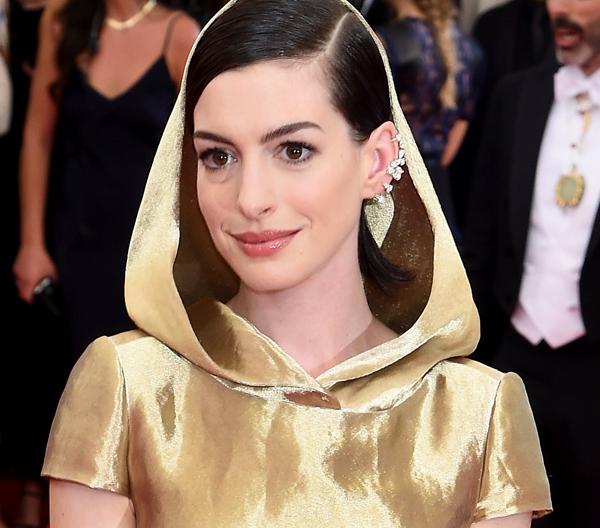 Kate Lee did the makeup honors for the stunning Anne Hathaway, who positively gleamed, literally and figuratively, in gold. "For Annie, it's all about her dress: It looks like someone just poured gold paint over her. It's really extraordinary, very statuesque. I wanted her to have dramatic eyelashes and brows, but not a lot of makeup. It's perfectly space-age," says Kate. Here, the beauty breakdown.
FACE
Her skin is beautiful and flawless, so I just applied a small amount of CHANEL Perfection Lumière Velvet Smooth-Effect Makeup Broad Spectrum SPF 15 to keep her complexion matte enough for the red carpet. Then, I used CHANEL Le Blush Crème de Chanel in Cheeky to slightly contour under the cheekbones.
EYES
I worked CHANEL Soft Touch Eyeshadow in Taupe Grise into the socket line, then enhanced her top and bottom lashes with CHANEL Inimitable Waterproof Mascara in Noir to make them look incredibly full. I groomed her eyebrows, brushed them upward and set with Anastasia Brow Gel.
LIPS
I decided to resurrect the liquid lip for this look. After lining her lips with a lipliner that matched her natural color, I applied the new CHANEL Gloss Volume Plumping Lipgloss (available September 2015), which I'm obsessed with. Just a little in the center, without taking it toward the lip line.
Additional Products Used
• CHANEL Hydra Beauty Sérum
• CHANEL Hydra Beauty Essence Mist
• CHANEL Base Lumière Illuminating Makeup Base
What do you think of Anne Hathaway's look at the Met Ball?