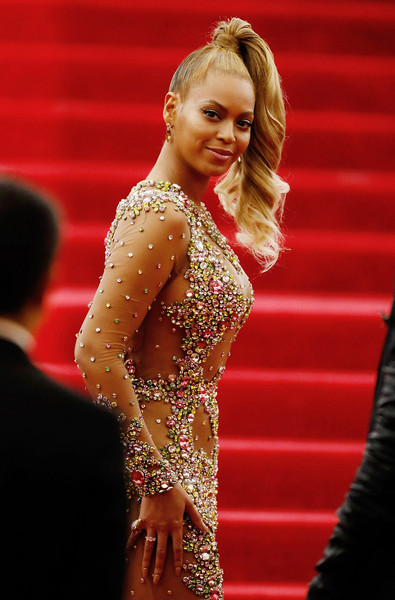 L'Oréal Paris Celebrity Makeup Artist, Sir John  did the makeup honors for Ms. Bey last night.  "I was inspired when I saw Beyoncé with all of her hair off her face. It automatically gave her an awakened, child-like look that I wanted to enhance with a bit of an anime vibe. I also wanted to play up her makeup since her Givenchy gown was long, sheer and covered in jewels."  Here, the beauty breakdown.
STEP 1: Prep face with L'Oréal Paris Infallible Pro-Matte Foundation ($12.99) focusing on keeping the T-zone matte. Sir John worked to play up her luminous skin tone and over-exaggerate a fresh, youthful appearance.
STEP 2: To create contrast, he mixed L'Oréal Paris True Match Lumi Liquid Glow Illuminator in Golden and Rose ($12.99; available July 2015) and applied to the cheeks. To further sculpt the cheek and add dimension, he applied L'Oréal Paris Infallible Pro-Matte Powder ($12.99), which also helps absorb light.
STEP 3: Sir John made Beyoncé's tan skin really pop by directly contrast with a pastel mint lid. He created a mod eye by applying a mix of L'Oréal Paris Infallible Eye Shadow in Endless Seaand Infinite Sky ($7.95).
STEP 4: For a "deer in the headlights" look, Sir John applied L'Oréal Paris The Super Slim Liner by Infallible ($8.95) to the top lid and into the lash line. He purposely kept the bottom lash line clean with no liner and mascara to further enhance the wide eye finish.
STEP 5: To complete the look, he added tons of L'Oréal Paris Voluminous Miss Manga Mascara ($7.99) so eyes popped, and added a touch of L'Oréal Paris Infallible Pro-Last Lip Color in Neverending Nutmeg ($12.99) to simply and subtly enhance the shape of lips.
What do you think of this look on Beyoncé?