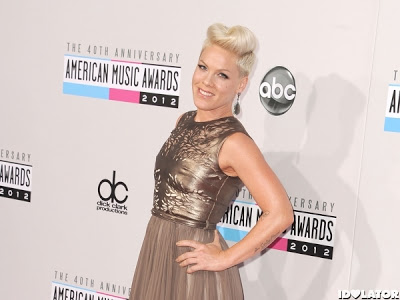 COVERGIRL P!NK stunned at the 2012 American Music Awards in a makeup look courtesy of artist Kathy Jeung. Here's how to recreate it at home, straight from Kathy. 
"P!NK's beautiful bronze leather and chiffon dress was modern and strong, yet feminine, so we wanted to do a makeup that reflected that, a simple, paired down but glowing, glamorous beauty look. We've been doing a lot of smokey eyed looks lately, so thought we'd mix it up and do a look that felt a bit like old Hollywood glamour, but in a modern way, with focus on the eyes, especially the lash line and lashes.
For eyebrows, I used a few soft strokes of CG Brow & EyeMakers Pencil in Soft Blonde to define, then brushed into place with CG Profession Natural Lash clear mascara. For the eyes, I first applied CG Eye Enhancers in Champagne all over the lid and on the brow bone. Next I applied a bronze shadow, CG Eye Enhancers in Mink into the crease and blended well. Along the outer corner of the eye, I used a metallic color that wonderfully matched her dress, CG Eye Enhancers in Tapestry Taupe. To get depth along the lash line, CG Liquiline Blast Eeyeliner in Black Fire, drawn with a bit of a cat eye shaped at the outer corners, then smudged. Over that to further define, I used CG LineBlast 24 Hour Eyeliner in Enduring Black, in a thin line along lash line. Along the outer lower lash line, I again used CG Eye Enhancers in Tapestry Taupe to accent to cat eye shape. To add a little more dimension and to further blend, I added CG Cheekers Bronzer in Copper Radiance in the area around the brow bone with a medium fluffy brush. Over curled lashes, I apply 2 coats of CG Clump Crusher by LashBlast Mascara in Very Black on the top lashes. Because of its amazing staying power with no smudges, I used CG LashBlast 24HR Mascara on the lower lashes – 2 coats to really bring out her already long lower lashes.
I prepared the lips with a lip balm while I was doing skin preparation so it had a chance to absorb into lips. I started with CG LipPerfection Lip Liner in Smoky to define the lip edges, and then added CG Outlast All-Day Lipcolor in Faint Hue, let that set, then applied the corresponding clear lip gloss over to add more shine."
I love this pretty look on Pink at the AMAs. What say you? 


Like this post? Don't miss another one! Subscribe via my RSS feed.