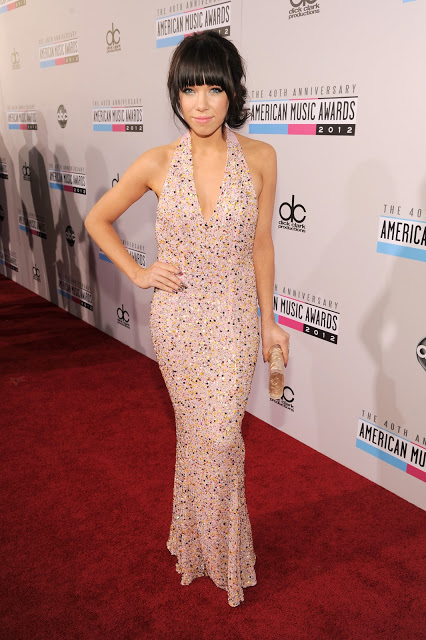 Tina Turnbow
created
Carly Rae Jepsen
's flirty makeup look for the
2012 American Music Awards.
Also
, 
Carly's sequined gown reminds me of a Deborah Lippmann nail polish in a good way. Read on to find out how to recreate the look, in Tina's words. 
"We wanted to create a look that would mimic the softness and femininity of Carly's dress, while still remaining sexy.  The colors on her dress were baby pink, teal, and gold – very feminine, but it was also very form fitting with an open back that gave it a little edge.
To prep Carly's Skin, I used the Votre Vu Attentive Serum Delicat Pour Le Visage first and then the Attentive Crème du Jour over to provide a moisturized base for the foundation. 
We wanted the focus to be on her eyes, which we wanted to reflect the soft/sexy contrast of her dress. First, I applied the Votre Vu Lingerie Pour Le Yeux to create an even, nude base for the eye shadow to stick to.  Then, I swiped a shimmery gold eye shadow by Stila all over the lid to match the dress.   To create the soft, yet defined look for her eyes, I lined them with the Votre Vu Le Joli Crayon in Charbon, smudged it up and out at the edges with the sponge tip to create a slight smoky cat-eye effect, and then applied a black liquid liner on top for more definition.  Lastly, I applied two coats of the Votre Vu Eiffel Power Mascara, concentrating more on the outer edges for a more feminine, flirty look. 
On her cheeks, I applied the Votre Vu Vu-On Rouge Cheek and Lip Tint in Bouquet Rose, which gave a great natural, pink flush to her cheeks while not taking away the attention from her eyes.  For her lips, I lined them with a pale pink lip liner to lighten up the color of the Vu-On Rouge in Bouquet Rose, which I lightly brushed over to give more dimension.
Lastly, I set the whole look by the misting the Votre Vu À Votre Santé spray which doubles as a makeup setting spray.  Carly loved it, especially the scent!  It gave just the right amount of dewiness to her skin while ensuring that her makeup wouldn't move throughout the night since she'll be performing!"
What do you think of Carly Rae Jepsen's look? 

Like this post? Don't miss another one! Subscribe via my RSS feed.