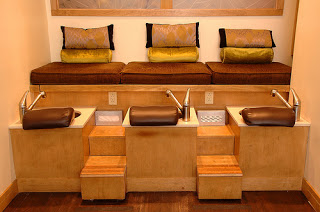 The pedicure stations at Haven Spa
No one does seasonal anything like Haven Spa in SoHo, save for, perhaps, Martha Stewart. This fall, the relaxation destination is offering a new pedicure to their service menu for a limited time: the Taj Ma Toes pedicure. 


Sip some spiced chai tea while enjoying an ayurvedic-inspired pedicure complete with oils of almond, lemon and geranium nourish your weather-ravaged soles. You'll soak in a foot bath complete with an herbal scrub, vata oil hot stone massage on legs and feet before your toes are decorated with a metallic, glitter or 18K gold-flecked polish for Taj Mahal tootsies. 

The Taj Ma Toes pedicure is available through February and costs $59 for 45 minutes. Make an appointment by calling 212-343-3515. 

Like this post? Don't miss another one! Subscribe via my RSS feed.