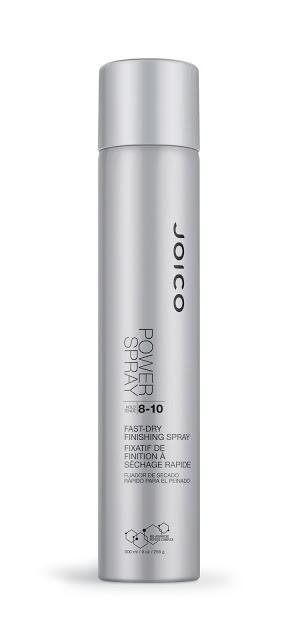 Hairspray
is one of the few polarizing products among beauty buffs. At its worst, hairspray yields a sticky layer of gunk transforming the very fibers of your hair into something that feels like… a different form of matter. As if there were solid, liquid, gas and hairsprayed hair. At its best? You can achieve flexibility, hold and natural feel that lasts, yet also yields 
Tracy Turnblad
volume. You know.
It gives a girl power and punch. What gets a girl asked out to lunch? Is it brains, is it dough? No, it's hairspray. 
My favorite of late? Joico's new
Power Spray Fast-Dry Finishing Spray
 is equipped with Joico's AquaLastik™ technology, which lets you restyle with softness and hold, while providing Janet Jackson levels of
control
without compromising shine, all with a fine mist aerosol to offer even distribution, repel humidity and say bai to frizz and flyaways. Power Spray is a true "layerable" spray – increasing hold, not hardness – while maintaining flexibility for up to 72 hours.
In talking to one of Joico's R&D specialists, I learned that The Human Genome Project played an integral role in making it possible to understand the DNA structure of every part of the human body, including hair.  Understanding the DNA structure of hair evolved the way Joico's scientists approached the reconstruction. Now, for the first time, scientists were able to see the exact structure of human hair, identify which peptides get weakened and damaged and replicate these peptides using solid-phase peptide synthesis (SPPS). The SPPS allows Joico R&D to engineer a highly functional advanced peptide (amino acid chain) that replicates any portion of the hair keratin. 
The cocktail of ingredients includes
Bio-Mimetic Peptides,
a
blend of bio-advanced nourishing proteins that adheres to ensure maximum protection and helps nourish and strengthen hair. 
Opal
cr
e
ates a lasting web of style support, strength and elasticity. 
Plum Kernal Oil 
deeply nourishes and moisturizes hair without an oily after-feel to promote shine, elasticity and style flexibility. 
It kept my frizz at bay even when I was stuck in storm Athena this week, with an umbrella that can only charitably be referred to as protection from the elements. Hairspray makes all the difference in a wintry mix. If you spray it and lock it, you can take off in a rocket. And in outer space, each hair will be in place. 
Joico Power Spray Fast-Dry Finishing Spray
 will be available beginning 
November 2012
 for 
$17
at select professional salons nationwide. Visit 
www.joico.com/salon
 for locations.
Disclaimer: This post was sponsored by Joico, but all opinions herein are my own. 

Like this post? Don't miss another one! Subscribe via my RSS feed.