By Julia Casella
Dark lips are forever. Classic and chic yet vampy and mischievous, a dark lip takes you from plain to insane. Here is some inspiration.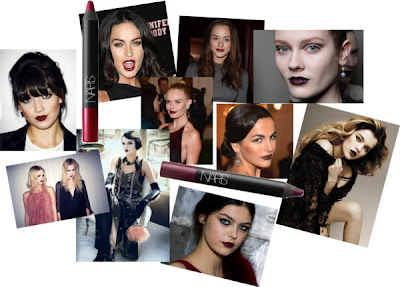 At the moment I'm obsessed with two matte velvet lip pencils from NARS. I either swipe them on and then blot with my finger for an unfussy stain or counterproductively, pair them with a gloss. The benefit of layering a gloss is that it easily hides any imperfections of the pencil application and adds staying power. Train Bleu is a deep plum, while Damned is a blue-toned red with a hint of purple. If I'm going the gloss route I'll pair them with either Bad Education or Penny Arcade, also by NARS. 

Follow Julia Casella on Twitter: @Julia_Casella. 

Like this post? Don't miss another one! Subscribe via my RSS feed.