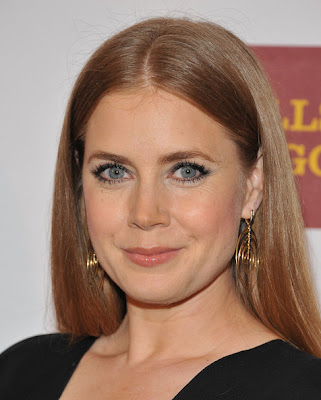 Amy Adams
presented at the GLSEN Respect Awards this past weekend to the
Weinsteins brothers Bob and Harvey for their work on the powerful movie
Bully
. Makeup artist
Stephen Sollitto
created her polished look for the evening. Here, the beauty breakdown, straight from Stephen. 
"I prepped her face with Avene light moisturizer. It's so gentle and easy to work with. Then did a very light coat of
MAC
Face and Body foundation. Amy's skin is beautiful and well taken care of so you don't need a lot. Because she was going to be on stage in bright lights I like to use a bronzer on her to warm up her face and also to give the face more dimension. Jouer puts out a perfect bronzer for this as it's matte and doesn't have a sparkle. I used Jouer Perfect Tan at her temples, her hairline, her jawline and chin and the tip of her nose.
I can't call this black eye smokey because it's more precise than that, but it's also not hard-lined either. Maybe it's the Little Black Eye to match her Little Black dress. I started by lining her upper lash line with MAC Smolder Eye Pencil. On top of this to soften that line and the intensity of the color I used Tarte Primal eye shadow from their Call of the Wild palette. It's a perfect grey not too green, not too dark, yet strong enough. I dragged the eye out a bit at the corners and creases but just for eye shape not for dramatics. I also dragged what ever was left on the brush under her eye for soft definition. On Amy's lids from the same palette I used a beautiful light taupe called Tarte Lynx just so the lid wouldn't read too light.
Now if you've ever been nervous to try liquid liner you have to try Hourglass Script Precision Liquid Liner in Jett. It's like one hair worth of brush so you have such control and can really get it into the lash line. I like it because it's so light that the lash line darkens with out a heavy lined look. For more definition under her bottom lashes I dotted the outer half with a straight flat brush as close to bottom lashes as I could get.
I topped the eye with two coats of Benefit Get Bent Mascara in Black on both top and bottom lashes. No matter what the trend I think doing this really opens up you eye. If you're worried about the mascara traveling use a Q-tip and rub any moisture off underneath your eye. Then take a small clean bush and a bit of loose powder and apply this under your lashes. This will help dry the area so the mascara is less likely to travel. Granted some WILL STILL travel depending on the mascara and your skin type. A few Q-tips in your purse will help you keep it under control.
On Amy's cheeks I used Votre Vu's new Vu-On Rouge cream blush in Ma Cherry, a beautiful cherry color and perfect for her skin tone.
On Amy's lips I used a pretty in pink gloss from Bobby Brown called Buff. It's that traditional pink gloss that should be a staple in every woman's makeup kit." 
What are your thoughts on Amy Adams' makeup here? I think she looks lovely! 

Like this post? Don't miss another one! Subscribe via my RSS feed.