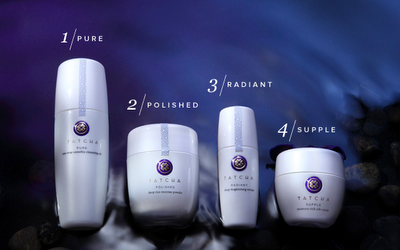 TATCHA The Skin Care
Way, way, way before geisha had a major Western moment in popular culture with Memoirs Of A Geisha, (both the book and the film), I was fascinated with them and really, all things Japanese. Believe me when I tell you that even though my introduction to Japanese culture was via Karate Kid 2, Kumiko's geisha tea ceremony is what ignited my rampant research with the sophistication of Japanese food, design and beauty. It's how I learned sush is CROOSH. My dad used to take us to an amazing sushi restaurant in New Jersey near his old office called Sagami and if you're ever in Collingswood, look that shit UP. So, I vividly remember seeing the movie in 1986 while in Florida staying at my great aunt Jenny's house in Fort Meyers with my brother and my mom. Anyway, being 6, that movie featured the most romantic scene of my EXISTENCE (Daniel LaRusso and Kumiko's torrid attraction unfolding to the tune of Peter Cetera's Glory Of Love, one of my favorite drugstore jamz). Observe Daniel-SAN having a cultural experience!
Beautiful, right?  I have a point and I'm getting to it. TATCHA founder Victoria Tsai, after discovering the original beauty papers in Kyoto, had the rare and incredible opportunity to study the geisha's beauty rituals with them over the past three years. Says Victoria, "While their makeup is remarkable and truly a thing art, it's the baby-like skin underneath that made me dedicate my time to understanding what their secret was."
This is one of Victoria's geisha teachers, Kyoka,
with no foundation on, in an iphone pic (!) and no retouching on the skin.
After three years, two teams of scientists and translating their original beauty bible from 1812, here's what she learned. For over 300 years, Japan's geisha have been held in awe for their enduring wisdom and porcelain skin. Perfected through centuries of timeless rituals, it was widely believed these beauty secrets had been passed down from one generation of geisha to the next by word of mouth alone. Until TATCHA rediscovered their coveted daily regimens in a 200 year-old ancient manuscript, written in the twilight of Japan's Edo Period. YES.


TATCHA Skincare, like the drum in "Karate Kid 2," blocks and defends… from AGING.
Traveling back to the City of 2000 Temples (Kyoto), TATCHA has worked with teams of scientists, scholars and geisha themselves to decipher the rituals and ingredients from this text.  There, they uncovered the very foundation of Eastern skincare and beauty. 
Through a proprietary process involving the very best green teas, Okinawa red algae and rice bran—as well as other indigenous extracts—the secrets of the geisha live on in TATCHA. And you can achieve geisha-gorgeous skin. In short? This regimen is a man who will fight for your honor. 
The collection includes the following. 
Cleansing Oil ($48) Camellia and rice bran oils combine to melt away even the most stubborn makeup. Like the SATO of makeup. 
Enzyme Powders ($65) Releases debris, polishes skin to ready it for makeup. 
Brightening Serum ($150) Incorporates time-tested Asian botanicals for radiant, flawless skin. 
Moisture Rich Silk Cream ($150) 
A rich yet weightless gel-cream boasts powerful anti-aging ingredients whiel replenishing and fortifying.
Beauty Papers (obv–$12) Our old faves! These mattify without sacrificing moisture or your makeup.
Do it all for the glory of geisha skin! But we can never make it alone. TATCHA Skincare is available at barneys.com. Are you as enamored of the geisha as I am? AND DO YOU AGREE THAT KARATE KID 2 WAS THE BEST ONE?
Like this post? Don't miss another one!
Subscribe
via my RSS feed.