Presented by Target
Sparkle, Neely, sparkle: This is the 2011 BBJ Holiday Gift Guide. For more gift-worthy items for everyone on your list, check out my other offerings.


Napoleon Perdis is one of my favorite makeup mavens. He once gave me a holiday look that garnered compliments from veritable strangers on the streets of Columbus Circle AND reignited my burning flame for white eyeliner.  If you aren't yet involved with his wonderfully wallet-friendly line for Target called NP Set, I seriously don't know what you're DOING all the time. Like his eponymous Napoleon Perdis range, it boasts primers of various and sundry facial vocations (says Napoleon, "Not to prime is a crime!"), like a new Lip Primer you'll need to keep your holiday red lipstick from making a run for it, and other gems. Let's take a little looksee: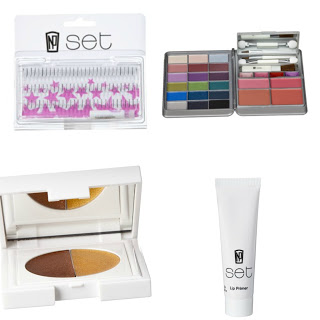 With their sleek white packaging, incredible portability and decadent textures and finishes, these items are ideal for the traveler on your list. NP Set for the jet set, if you will. My favorite NP Set offerings of late:


Lashing Out
NP Set Copenhagen Eyelash Set ($10) 
The holiday season is all about drag queen lashes and your giftee can save herself a bundle by skipping extensions and applying her own individuals. Lash glue is included. Adorn just the ends of the eyes, or go whole hog with a holiday honey lid concept of multiple clusters. Plus, it's TEN DOLLARS. It'll make a divine stocking stuffer.


Fiesta Face
NP Set Party Set ($34) 
There exists a metric ton of palettes that claim to be perfect FOR a party. But how many themselves, ARE a party? Just one, and that's NP Set Party Set. Eighteen bright, shimmery shadows; four varied cheek colors for a healthy glow and four lip shades ranging from retro corvette red to purple rain. Baby, you're much too fast.


Summer Loving All Year Long
NP Set Shimmer Highlight Duo ($15)
Ethereal elements need not be relegated to the summer months.  Use the darker hue to bronze your sun-deprived cheeks; employ the gold as a highlight to subtly bring iridescence to the bridge of your nose (helps to create a slimming effect) and a smidge above your cupid's bow will make your lips appear more plump.


Getting Lippy
NP Set Lip Primer Set ($15)
The holiday season is a special time for togetherness, family, food and snuggling by the hearth. For me? It's an excuse to rock a full month of bold lips. This hydrating lip veil will act as a base coat for your lipstick of choice, keeping it from migrating south for the winter like your grandmother Ethel.


NP Set is available at Target.com. 


Disclosure: Product and compensation were provided by Target for this post, but all opinions herein are my own. 
Like this post? Don't miss another one!
Subscribe
via my RSS feed.