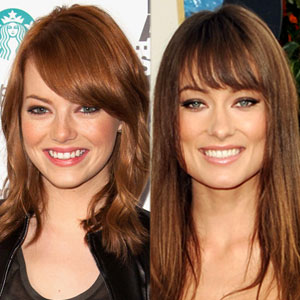 Revlon announced today they've signed two of Hollywood's most sought-after actresses–Emma Stone and Olivia Wilde–as Global Brand Ambassadors for the Revlon brand. It was a pretty natural development, n'est-ce pas? This beautiful duo could sell umpteen blushes and foundations, in my profesh opinion. Read on…
Each have been in several movies this year and have quickly become fashion and beauty icons on and off the red carpet with Stone's effortlessly chic and feminine style and Wilde's alluring yet graceful sensibility.
As Brand Ambassadors for Revlon, Stone and Wilde will become the faces of new and existing Revlon products and will appear in global, multimedia campaigns that span television, print, in-store, and digital and social platforms. Their first campaigns will be tied to the launch of innovative, new color cosmetics and nail enamel products and will world premiere in early 2012.
I love this partnership–both gals are absolutely gorgeous and will no doubt elevate the brand. Between Gucci Westman, Jessica Biel, Halle Berry and now Emma and Olivia, Revlon is ROCKING these days. What do you girls think?
Like this post? Don't miss another one! Subscribe via my RSS feed.