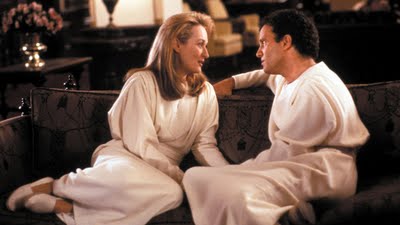 I hate powder foundations, blushes and bronzers because I believe they age skin prematurely. We know this, because I discuss it incessantly. But I actually HATE the feeling–tactile-y–of powders. It makes me uneasy. I have a similar aversion to touching newspaper. Eye shadow is an exception because I apply it with a brush.
So I looked into it, and was able to hunt down some products which experience, all in seconds, the A Defending Your Life Past Lives Pavilion moment. Defending Your Life is a classic. So start using 48% of your brain and invest in these gems: They experience multiple lives as they go from a powder to a cream (and in Eye Light's case, back to a powder) in seconds. Or vice versa.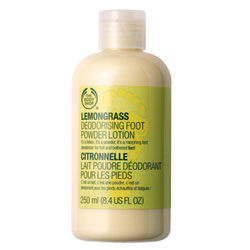 The Body Shop Lemongrass Foot Powder Lotion1 ($21) is a sweetly scented lotion that transforms into a talc to keep your tootsies fabulously fresh. I lurve the lemongrass scent. It's crisp and refreshingly fruity.
Powder to Lotion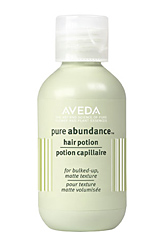 Aveda Pure Abundance Hair Potion2 ($23) I discussed this magical "brew" before in this post. Shake some into your hand, and the powder makes a Gregor of Kafka's The Metamorphosis fame shift into a thickening cream that will increase thickness by 17%.
Powder to Lotion Back to a Powder
($25) Though a bit overpriced for such a small vial and not necessarily a concealer, I find it supplements concealer beautifully by yielding brightness that doesn't cake into lines. Its powder to liquid and then BACK to a powder formula is very Bill Nye the Science Guy when you break down the way it works. Tiny little pigments encapsulated in water instantly cools and evaporates product into skin for a hydrating effect. It's perf on the first half of the bridge of your nose (check out this vid from NYFW for more info), under eyes and under brow.
Very Transformers–more than meets the eye, no? What are your favorite multiple-life products?
Like this post? Don't miss another one!
Subscribe
via my RSS feed.

1. Disclosure: Purchased by me walking home from work a couple years ago
2. Disclosure: Free sample provided by Aveda PR in a gift bag at an event
3. Disclosure: Free sample provided by Mally Beauty PR at a launch event