Along with visions of a completely red apartment a la Diana Vreeland's, (pictured, left. Or, more smarmily, C.C. Bloom's in Beaches), I harbor fantasies of being able to showcase a gorge collection of faux lashes a la Harvey Nick's (as Absolutely Fabulous' Patsy always calls it) Tokyo Lash Bar. In my well-developed vision, I have my own DISPLAY CASE where these lashes exist in harmony. In it, these would certainly live.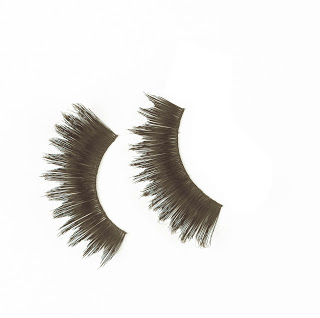 Now, I rarely ROCK faux lashes. And when I do, they're fairly non-theatrical. Usually Laura Mercier's Corner Lashes, or Revlon Fantasy Lashes. But that doesn't stop me from BUYING lashes worthy of establishing residency on one of the hilarious masks in the masquarade scene of Phantom of the Opera. (MASQUARADE! PAPER FACES ON PARADE. Love that song. I digress.)
Anywho, my new addition to my collection would be these aggressive but patently fabulous Make Up For Ever Alexandra 110 Lashes ($15). They are the gorgeness. Like Vreeland's epic apartment (but unfortch, not C.C.'s) , they SUCCESSFULLY toe the line between chic and aggressive vulgarity. I'd allow them to be the phantom of my opera of glamosity ANY damn day.
Available at Sephora.com
.