Hey, dolls!
I hope you had a fab weekend. Mine was great, thanks for asking. I enjoyed a blogger brunch with Marina, Tamar, Jamie, and Dina at Max Brenner's on Saturday where the food was good, but we waited six eons for a table. The climax of event (since my life is a novel, but probably only to me) happened when Tamar and I excused ourselves to the ladies. I'm out in the sink area, washing my hands and Tamar emerged from her stall.
TAMAR: Amber. Did you tag this stall while you were in there?
AMBER: NO. I don't vandalize. What on earth did it say?
TAMAR: It said "Ambersome," "Bella + Edward," and "I love Gossip Girl."
AMBER: Wow. That does sound like something I'd write, if I were an urban alchemist.
The end result is that now all of the brunch patrons use ambersome interchangably with awesome. Obv.
So what am I finding ambersome these days? Observe!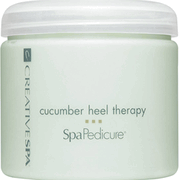 CND Cucumber Heel Therapy ($20)
Until this rich, moisturizing cream came into my lifestyle, I'd sort of poo poo'd any product manufactured by a nail polish company other than the usual suspects: polishes, base/top coats, maybe a file, nail clippers, etc. When polish brands move into the realm of scrubs and lotions, I just have trouble believing they can do it all, like a Renaissance man. So I had low expectations. Also, I had trouble believing in an intense moisturizer that involves CUCUMBER. Cucumber to me equals soothing, cooling, maybe calming… but not hydrating. Anywho, I was so very wrong. CND's cucumber-infused heel treatment banishes beast feet in seconds. Seconds! I also apply it to my knees and elbows for smooth, soft skin.
What is the last product that surprised you?