Meghan and I on our trip to Sephora!


I caught up with the fabulously tech-savvy Meghan Asha (She carries two iPhones – the new ones, obv – on her at all times) this evening at her Soho abode so she could walk me through her beauty stash. Here are her current faves (pictured, left):
Cosmedicine Honest Face Tint SPF 20 ($35)

Make Up For Ever HD Microfinish Powder ($30)

Make Up For Ever Full Cover Concealer ($30)
Big Sexy Hair Spray + Play Harder Hairspray ($19)
Almay Moisturizing Eye Makeup Remover ($6)
Aveda Night Nutrients ($35)
MAC Fluidline in Blacktrack ($15)
ACE Comb ($3)
NARS Velvet Matte Lip Pencil in Cruella ($24)
Chanel Precision Hydramax + Actif Teinte in Sand ($55)

Various Trish McEvoy palettes
What does this dusky beauty do to achieve her understated, yet exotically polished look?
1. She swears by slathering up her entire face with Vaseline at night. One of my favorite writers, ELLE columnist E.Jean Carroll does the same thing and she looks a good 15 years younger. "I have a designated pillowcase I use just for that purpose," Meghan explained to me. "It's kind of weird to explain when you're dating someone, but my skin feels so hydrated when I wake up." She rocks her "vaseline face" even on planes! Per Meghan, "I sit ALL DAY with my Vaseline face!"
2. Can you believe that that hair just dries like that? Meghan simply straightens the front pieces. One thing she doesn't recommend is extensions. "I just say NO to them," she told me. But to wean yourself off of them, she doesn't believe in going "cold turkey." "You'll feel like you have no hair," she said, while I looked on, aghast. No hair? Tell me how I'm supposed to breathe with no HAIR. Hair, as you know, is my everything. Meghan says to remove only SOME of the extensions at a time to ease yourself back into your natural state. Then, she recommmends dyeing your hair with a regular box dye in order to coat it. Dyed hair feels thicker, is glossier, and even reduces the appearance of split ends. She's such a fan, she "does the dye" every two to three months.
3. Meghan is a big proponent of threading, as am I. She goes to a threading place on West 4th and Mercer. I love my own threading place called Perfect Shape on 6th Avenue at 39th Street. You can walk in and be threaded immediately, but if you want PHENOM eyebrows (and I always do) you'll need to make an appointment with master threader Reshma. P.S. It only costs $8.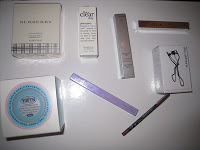 Then, Meghan asked if I'd mind helping her pick out some new products at Sephora. Mind? That's my fave thing to DO. Nearly all of my friends have experienced the "Amber Sephora Tour" (which unfortunately, yields the byproduct of a massive bill… Meghan's was to the tune of $264.. but it was a well-edited selection of Red Carpet/TV Appearance Ready Essentials), so I was ready for another round.
Here's her blog entry about what I recommended she purchase:
Per the suggestion of Miss Beauty Blogging Junkie, I brought home the following products:
Stila's Cherry Crush Lip & Cheek Stain: Amber swears by this product, I'm such a lip product fanatic that trying this product out will be a true cherry flavored treat.
Burberry Eau De Parfum: I haven't changed up my perfume in years; this scent is so different than what I've worn in the past. It smells like clean laundry. Amber swears that the 'Dudes' will go CRAZY over it. How do I smell Mr. Laptop? (He's getting warm- eek!).
Bliss's The Youth As We Know It: I'm such a cream fanatic that feeling the consistency of this made me ignore the $75 dollar price point and dive in to saving my skin from premature aging. I'm justifying the price by using a $2 jar of Vaseline at night. That makes sense, right? Umm…NO!
Philosophy's On a Clear Day: "My name is Meghan Asha and I have a ZIT PROBLEM". This serum is supposed to dry those little (OK, in my case EXTRA LARGE) critters out and keep your skin blemish free. If it's any good, I'll write about it again.
Lancôme Definicils Pro: Every one's been emailing me about Dior Blackout Mascara, but Amber said "Go for the RUBBER— RUBBER Mascara Wand, that is…" Take your mind out of the gutter; I'm talking about lashes here (GEEZE!).
Shu Uemura's Eyelash Curler: According to Miss Amber this is the best and most popular curler on the market. One tip she has is to heat this little curler with your blow dryer and use on lashes for extra curl staying power. Knowing how accident prone I am when it comes to this beauty stuff, I may leave this tip for the experts, as I can just see myself singeing my eyelashes and having to get eyelash extensions (ha!).
Urban Decay 24/7 Glide-On Eye Pencil: I hate wearing eyeliner, because by the end of the day my eyes look like a raccoon. This eyeliner is supposed to stay put for hours on end.
Makeup Forever's Aqua Lip: These days with the entire ruckus, I'm having a hard time keeping that darn red lipstick inside the lines. I'm SERIOUS; sometimes I look in the mirror and see a major CLOWN FACE (with the lipstick WAY outside the lip area). I hope this pencil will teach me to take my time and color inside the lines, rather than slathering it on like a kid with finger-paints.
Meghan's makeup-streaked hand after trying out nearly every product in Sephora's arsenal.
Thanks to Meghan for sharing her beauty stash and tips! And for letting me do what I do better than my own full-time JOB – advising people about what products they can't live without at Sephora.
Can't get enough NonSociety gals? Read about the beauty tips Meghan's friends Julia Allison and Mary Rambin shared with BBJ as well.
Image credit: beautybloggingjunkie.com, meghan.nonsociety.com