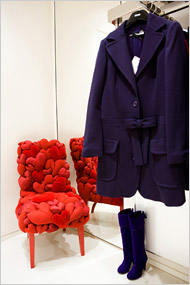 Only
Cintra
could put into words my own feelings about inseparable clothing which should be detached:
'I tried to explain my distaste for trompe l'oeil in textile: "I have a real problem with dickies, or separates that are inseparable."'
"If you possess fun within your soul, Moschino will amplify it. If you aren't fun at all, Moschino's excitable designs will do the work for you. Either way, the message is clear: maybe you can't buy fun, but Moschino is trying to remedy this. Like St. Peter's, the glitzy extras are intended to inspire your opening to new possibilities, both sublime and ridiculous."
Read the article in its entirety here.
Image credit: nytimes.com