Dolls, the title is courtesy of Zoolander's Mugatu, obv.
Have you noticed that volcanic ash has been popping up left and right as a hot new ingredient in beauty?
MAC Volcanic Ash Exfoliator ($19): This hot little number (it's sold out currently, but I STILL had to tell you about it in the hopes that you'll check it out once MAC replenishes their stock) is from their Future Earth collection. It's the color of soot so it could potentially stain a white washcloth, so I'd use a colored one for removal. I used it this weekend after a heavy-handed bad facial application of Darphin Self Tanning Face & Body Tinted Cream. P.S., the aforementioned self-tanner is PHENOM, I assure you. Every other time I've used it, the results have wowed me. This time was entirely my fault: I'd slathered on far too much, didn't rub it in well and awoke to a splotchy mess. Totes my fault. I'll provide more detail about that self-tanner and others next week during Glow-y Days Week. Anyway, one quick scrub with this exfoliator and all traces of streaks were GONE and I was left with the facial equivalent of tabula rasa. Its fine sugar crystals buff away surface gunk while its minerals work hard to absorb skin's natural oils.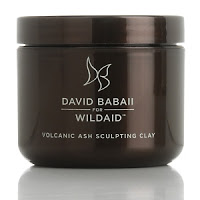 David Babaii for WildAid Volcanic Ash Sculpting Clay ($15): I'm loving this sulfate-free styling aid from Kate Hudson and David Babaii's hair care collaboration, David Babaii for WildAid. This is a creamy styling clay, but it's not waxy. I'm loving it to add a bit of texture to the ends of my straightened hair. But my favorite use for it is to add a bit of wavy texture to second-day straightened hair. It thickens strands when scrunched in (start at ear-height – going too close to roots will make hair look dirty) for beachy waves. Note that a little goes a long way – start with a quarter-sized amount and increase from there if necessary.
You'll lava both these beauty gems. Okay, bad pun. It's Monday, girls. My jokes will get better as the week goes on.