EPIC night, girls. I was invited to the press area of the red carpet for last night's Best of New York party hosted by vitaminwater. This event drew in the best of all worlds, dolls: rappers, athletes, and teen queens. Does it get any better? (No, it plum doesn't.) My friend slash entertainment editor, Lauren, accompanied me in the paparazzi stand where I took photos with my lame Canon amongst real photogs with like, lenses and stuff, exchanged surreptitious OMG commentary with Lauren in between furiously shooting, and trying to get a hold of myself. The highlights from Lauren's notes: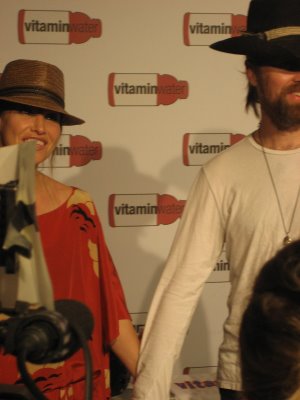 Gina Gershon and scruffy dude Wearing a TOTALLY age-appropriate outfit – a short shift dress thingy with a weird hat. Good facial Botox. Dress was a bit too short and she looked older than the scruffy dude.
Al Harrington I want my future husband to buy me a rock the size of the one in his ears [Amber: I have NEVER seen bling like that. Even at Fashion Week. Like, six carats for reals.] Amazing watch and alligator flats that were obviously expensive but a bit too pointy for the jeans. Approximately eight carats in each ear. I would do disgusting things to him.
Naked Cowboy [Amber: He's invited the MLB party and we're not?] Why is the paparazzi freaking out? You can go to Times Square 365 and get a pic of him.
Krista Anne Not sure who she is. [Amber: I enjoy her jewel-toned bluish-green top lid eyeliner.] Dress is mildly cheesy.
Emeka Okafor [Lauren and Amber: this dude's dead sexy, but we stopped taking notes because LAUREN CONRAD was right behind him. Sorry Emeka.]
LAUREN CONRAD [Amber: I have died and gone to heaven. Lauren's hair is super shiny, super long, and looks phenom in a curled ponytail with hair wrapped around the elastic. Makeup is FLAWLESS and she looks like she's lost a considerable amount of weight.] LC looks amazing. Beautiful bustier dress with peep toe Miu Miu shoes. Very skinny. Very. Hair looks great with its long curls. Rocking a David Yurman ring with deep purple/almost black nail polish.
Kenya from ANTM Rocking a short leopard dress. Great eyeliner.
Gabrielle Union [Lauren and I die. We ADORE Gabrielle Union. She's not disappointing in person. She's luminous and has hair that must be insured for thousands of dollars. Her eye makeup is sublime. More on that from Lauren.] Wore diamond hoops with Pucci shoes (I think) with a gorgeous short white dress with a V neck. She stayed with reporters the longest – very friendly. Also didn't come with a publicist nor an entourage. Best skin in AMERICA. Her eye makeup: purple/light blue with yellowish white toward the lashline. [Lauren drew an eye-o-gram for me, she knew this info was vital].
Whoo-Kid
Who-cares.
Brian McFadden (Boston Legal) with Delta Goodrem Delta is super tall and skinny with the worst outfit – a short black dress with a men's suit jacket and patent leather shoes. Dewey cheeks; tons of self-tanner on her hands. Her CD "drops" tomorrow, apparently.
LL Cool J
[I represent Queens she was raised out in BROOKLYN! LL is one of my FAVES. He looks phenom in person. I have a totes crush and am totally called out by Lauren's and my new BFF, photographer Ray who's taking photos next to us.]

Donnie from Making the Band 4
We're both still under LL.
Joba Chamberlain
Yankees pitcher. Adorable in person.

Sunglasses at Night
[Amber: I don't know who this is, but I love that he's rocking sunglasses at night – presumably so he can spy on his girlfriend.] Huge diamond circle necklace.

Russell Simmons
Looking good, very chill.

BLAKE LIVELY
Amber fainted so she handed me the camera. Wearing a onesie-shorts outfit with stones on it. Amazing gold woven bracelet with a huge amber-like stone in it. [Amber: this is the end-all, be-all of my lifestyle and it's happening RIGHT NOW. I hear her telling a reporter that she loves Kerastase, Laura Mercier and Stila the best. She looks absolutely gorge in person. Her hair is not as shiny as I thought it'd be, but beautifully curled and flowing. My girlcrush has intensified to the 19th power. I couldn't limit this to one photo, girls.]

50 Cent and Lloyd Banks
50's wearing a huge circle diamond necklace and is rolling with an entourage. Looks thin and won't stop for many pics.

David Ortiz/Big Papi
[Amber: I am a Red Sox fan and ADORE Big Papi. He's super accommodating for the crowd. Walks the Red Carpet and then returns for photos. Total teddy bear.]

Stacey Keibler
I'm not sure who she is. Skinniest legs ever. We're both kind of feh about her. She wore that dress – that one – to her fifth grade dance, I'm sure of it. Before her growth spurt. People magazine tried to get her to say something interesting.

Jaslene Gonzales
Looks good, but super-skinny. Ridic heels, I'm thinking they're plastic YSL.
Aubrey O'Day of Making the Band [Amber: OIY. What is this. I used to love her on the show. Now, she's entered the city limits of Skanksville. She is not even showing side boob naturally in her dress and she pulls away her armpit hole so you can SEE her entire side boob. Is that what people are doing these days? I feel like I'm a million – this is grossing me out. HUGE SATC circa 2004 flower on her head.] Dumbest outfit in America. Has lip injections – the kind I call "the duck." Huge SATC poseur flower. I've used that word (poseur) once since 1992. It's necessary in this case. Huge false eyelashes. No bra. There is so much nipple showing through this WHITE dress. I'm considering taking off my bra and giving it to her. Promoting her clothing line. She stumbled twice and we almost got yet another boob show. Green contacts. Heartonmysleeveshop.com is her clothing line's website. In case you want to look like this.
Damon Dash crept in too quickly to be announced and was super pissed that people weren't paying attention. Oops.
CHACE CRAWFORD [Amber: I can't live. He looked at me prepared to answer questions and I promptly turned into Lorraine McFly and couldn't think of anything to ask. Cuter than a baby bunny.] Very California surfer. Very sweet with great hair. The paparazzi are going NUTS. They SCREAM at him. The German TV station (stationed in front of us) keeps asking everyone who goes by (including Chace) how they feel about Samantha Ronson and Lindsay Lohan. No one cares. No one.
Fabolous [Holla Back Youngun' is chanted by Lauren and me on a loop until he passes. So. Much. Bling. I pause and appreciate that I'll never have to ask him how to spell his name.] Very obedient for photos, seems super-nice. He and I exchange WTF glances when the Germans ask him about LiLo/Samantha and I nearly die. FABOLOUS and I have a mome. Can you believe?
David Lee and his GF Sabrina
David plays for the New York Knicks and seems sweet. Has a mini blonde girlfriend who's very nice. They're adorable.
David Wright [Amber: Never have I seen a cuter dude. In my lifestyle. I can't take pics because I'm too busy gawking. Lauren can't write. All we can do is pinch each other.]
Paul Rudd and Joe Lo Truglio [Amber: What an unexpected bonus! Next to Michael Ian Black, Joe is my FAVE The State cast member! I promptly call my brother whom I think will be SO VERY impressed by this news, and he goes, isn't that the "Dip my balls in it" guy? Ethan. No. That's Ken Marino. Ugh. Paul Rudd is gorgeous. Like looking at the sun.] Marry me, Paul Rudd. That is all.

Busta Rhymes
So friendly and smiley! Most bling EVER. [Amber: Pass the courvoisier. I love me some Busta.]

Evan Longoria
Wearing a Ed Hardy bedazzled shirt. Very cute in person.

Emile Hirsch
[Amber: We almost missed him! But just as we were walking behind the paparazzi station, he walked the red carpet and I caught a quick pic. Taller than I thought he'd be in person. Very cute. He came after we'd made an exec desision to leave.]
We were JUST leaving when Blake Lively left the party arm-in-arm with PENN BADGELY. He is such a sexy bitch in person.
XOXO.

Check out my BBJ credentials. Can you even? I can't.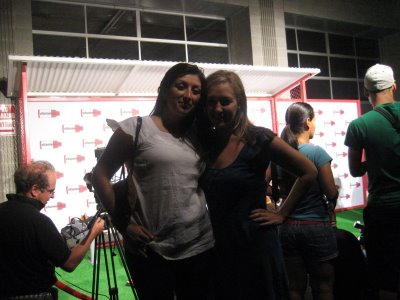 Lauren and I pose for the camera. We got a really cranky police officer to take this way-too-dark shot.
P.S. I got videos (!) of Blake Lively and Lauren Conrad talking to reporters. I'll upload them once my tech-challenged ass figures out how to. Stay tuned 🙂
Photo credit: beautybloggingjunkie.com