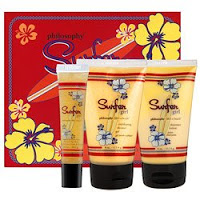 Want to ensure more weekend invites? Be a good guest and bring your hostess the new surfer girl set from philosophy, $34. Each product is infused with the tropical scent of kiwi papaya and a touch of gold shimmer for a beachy-vacay feel. The set includes Exfoliating Shower Gel, Shimmer Body Lotion, and Surfer Girl Lip Shine. Perfect for Mem Day Weekend, no?
Sold exclusively at Sephora and sephora.com.
Click here to enter Total Beauty's contest to win a Saturn Vue Hybrid.