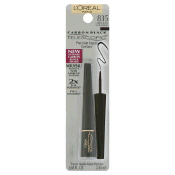 I have to credit my friend Lauren with the concept of a "whore drawer." It's a drawer you keep in your office at work stocked with cute outfits for post-work drinks/events that you can't wear in your conservative business/business casual environment. My "whore drawer" boasts an impressive makeup collection, a perfume or two, a couple of outfits, and various and sundry body lotions. My most recent addition is L'Oreal's Telescopic Precision Liquid Eyeliner in Carbon Black, $9.
I learned about this easy-to-use liner at the L'Oreal store at the Beverly Center (pictured, left). The store opened in 2004, and is home to the world's only True Light Pod (patent pending) which replicates any possible lighting environment. Dos Caminos circa 10pm on a Saturday? Done. A sunny day in Central Park? No prob. The store is intelligently designed with a "play" area in the middle where you can test out most of the products in-store, while the perimeter is lined with stocked shelves full of hair, makeup, and skincare products. So you don't have to reach over someone doing a foundation match to obtain the product you'll simply perish without having in your lifestyle. My fave part about the store: they sell that AMAZING condish that comes in their home dye kits SEPARATELY and in large tubes. What's better? Not one thing.
Back to the liner. Once I was introduced to L'Oreal's concept of carbon black – a serious shade of real, rich black thanks to twice the amount of intense pigments compared to L'Oreal's regular black – I was so sold. Jamie and I turned to each other and agreed that we needed blacker than black eye makeup on the DOUBLE. I picked up a carbon black mascara as well, which I have yet to try. Stay tuned on that. Telescopic Eyeliner's slanted precision felt tip is angled to allow you to quickly draw an accurate line. It's so user friendly! I like to add just a bit of dramatic "wing" a la Angelina to my outer corners before going out after work. Bonus: it lasts ALL night long, just like the Lionel Richie song. This drugstore darling delivers, dolls. Do try it on out.
Tell me in the comments: what's in your whore drawer?
Click here to enter Total Beauty's contest to win a Saturn Vue Hybrid.