It's not coming together today, friends.
Lauren, Amber and I attended this party thrown by Amber's fiance's company last night. When I'm invited to a Wall Street party where the attendance will skew 99% male, I definitely make it my biz to be there. I also never met an open bar I didn't like. And there were chicken fingers involved. I love a chicken finger. Anywho, countless vodka sodas and 60-Minutes-style interviews with Bear Stearns employees later, Lauren and I headed to another bar, where I had yet another vodka soda and an entire ORDER of chicken fingers. You know, cause I hadn't had enough of either before. I arrived home at 1am feeling fab. I woke up this morning circa 6am feeling the OPPOSITE of fab. So I employed every "wake up" product I had – here are the ones that made the most difference in my lifestyle.

Aromatherapaes Effervescents Shower Tabs – AM Wake-Up ($5)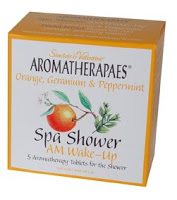 These tablets are PHENOM. You simply place one on your shower floor and are envelopped in a steam of orange, geranium and peppermint. Pre-shower, I could have been confused with an extra from the Thriller music video. Post-shower, not so much. They're also available at Rite Aid.
Clean & Clear Morning Burst Cleanser ($6)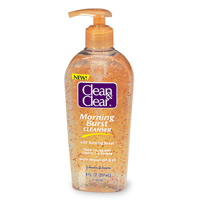 This cleanser provided me with two vitally necessary things this morning: energy and vitamins. I am also loving its brisk citrus fragrance.
NARS The Multiple in Orgasm ($37)

Despite using every "wake up" product in my arsenal, I was still looking… rough. A few swipes of this DIVINE do-it-all stick, and I'm looking refreshed and glowy. I had so wanted to be a part of the whole NARS Orgasm blush revolution, but I just couldn't be as I abhor a powder. They answered my prayers by creating it in a stick form. It's lightweight and provides just a hint of peachy-pink shimmer. You can use it on cheeks, eyes, lips and bod. I lurve it for décolletage highlighting.
Off to find a breakfast sandwich.
Photo credit: narscosmetics.com, drugstore.com, store01.prostores.com